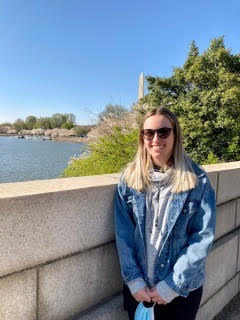 Ms. Shannon Gore is a science teacher at West Potomac. She teaches Geosystems and Environmental Science. She taught five years of middle school, but it's her first year here at West Po.
She said, "Everyone has been super welcoming. My fellow teachers are really nice and help with any questions that I have, and the students have been very kind as well."
She decided to teach because of a volunteer experience in the Special Olympics program in high school.
She loved the experience, saying, "I assisted special needs kids with basketball and soccer. So that kind of got me into thinking that I might want to pursue teaching."
From there, she focused on the subject she preferred.
She explained, "As a kid, I really liked science. I learned a lot about geology. And that led me to pursue an undergraduate degree in geology."
When asked what her favorite story from teaching was, Ms. Gore said she likes messy projects and laughing with students having fun.
She said, "… I don't think there's been like one moment that kind of stands out. But I think each day there's a couple of little things that have become my favorite things."
In her free time, she spends time with her dog, Hank.
She said, "We like to work on training and I like to explore the Northern Virginia area because I'm new to this area. So I like trying new restaurants, and just going to new places… I really like Old Town. Vola's has been my favorite. I keep going back, and &Pizza is awesome."