Book Review: John Green's "The Fault In Our Stars"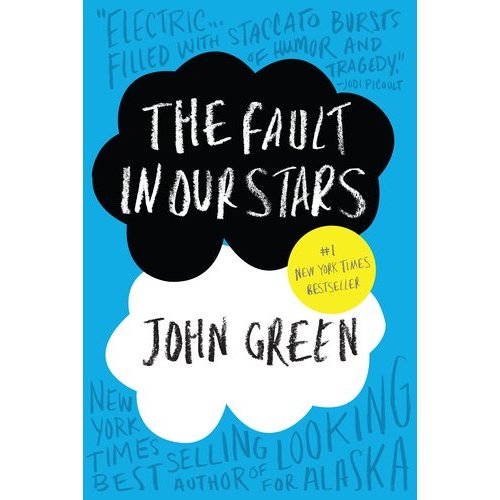 What's your favorite book? Chances are that any group of teenagers asked would reply that their current favorite is The Fault In Our Stars by John Green. With it's movie adaption (starring Shailene Woodley and Ansel Elgort) set to come out on June 6, 2014, and book quotes, reviews, and discussions plastered all over many popular social media sites,The Fault In Our Stars seems to be the book on everyone's minds lately.
The Fault In Our Stars follows sixteen year old Hazel Grace Lancaster, who was diagnosed with cancer at the age of thirteen and enjoys staying home, watching America's Next Top Model and analyzing her favorite book, An Imperial Affliction. Going to Cancer Kid Support Group is never enjoyable for Hazel, but her mother insists she makes an appearance. Things are going pretty consistent in Hazel's life, thanks to her Cancer Miracle Drug, when she meets Augustus Waters at a support group meeting, a handsome and charming boy she soon falls for. From the hilarious scenes of Hazel and Gus joking around with Isaac, their blind friend from support group, to the heartfelt tragic ending leading up to the final chapters, The Fault In Our Stars is an emotional, heartbreaking love story that will leave readers in tears.
What's so great about The Fault In Our Stars is that it appeals to everyone, no matter who the reader is; no matter how various people's likes, hobbies, and interests are, it is still is a entertaining read for all readers.With it's easy-to-read, yet metaphorical writing style, The Fault In Our Stars is an engaging read and is relatable to both genders. Any reader will be touched by the love story of Hazel Grace and Augustus Waters, and it's clever and intriguing storyline will have readers both laughing and crying all at once.
 So why else is The Fault In Our Stars so popular? Well, first-off, John Green already had a fanbase from his previous best-selling young adult books, including his first novel Looking For Alaska, which was published in 2005.  On top of that, the author co-owns a popular YouTube channel, The Vlogbrothers, which was started back in 2007 and updates regularly.
Along with great book reviews and press, and the rapid spread of fans recommending the book to friends, it's easy see why The Fault In Our Stars is a well admired novel and a must-read for everyone.