Rob Kerr Introduces Combating Intolerance for 2015-2016 School Year
Social studies teacher Mr. Kerr is introducing a new kind of elective to West Potomac in the upcoming 2015-2016 academic year.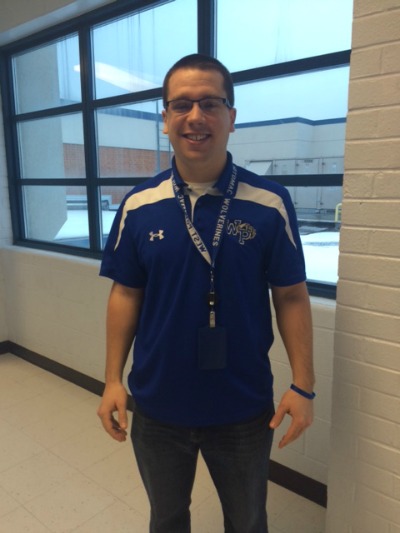 Having trouble picking what class to take next year? If you're interested in learning about the history of oppression and social justice, then consider taking Combating Intolerance. It's a new elective for the 2015-16 school year that gives students a chance to discuss topics they wouldn't normally be able to discuss in a social studies class. It is not your standard elective.
The course will cover subjects such as "heterosexism, sexism, racism, ableism, ageism, bullying, and classism among other things," according to the flyer that can be found upstairs in the Quander building and in Mr. Kerr's classroom.
Kerr, a social studies teacher, had the idea to start a class for students that enjoy discussing such topics. "I think it would help them [students] grow a voice," he explains. The class would give students a chance to express how they feel on topics concerning social justice, the history of oppression towards groups of people, and the social and political context behind them.
While some students are outspoken, others must learn how to be comfortable with sharing their opinions in front of their peers. Combating Intolerance would allow them to share their views through argumentation and ultimately help them learn to step out of their comfort zone.
The idea for the class started when Kerr approached Mr. Olivo, the department head of social studies, and Mr. Hamlin, an assistant principal, about teaching a class on African American history. "What they [Hamlin and Olivo] had told me is that I might want to broaden my spectrum to get to different minority groups in school and I thought that was a great idea," he says. "Combating Intolerance has only been taught a handful of times in the country, so it is a relatively new course. West Potomac brings such diversity to our county that I think it would be a great course to be taught here."
The class would mainly be discussion based. This means that it requires a lot of student participation. However, there will be short writing and opinion pieces and the chance to invite and meet guest speakers every once and a while.
Learning outside is also a feature of the elective. The class will have field trips at places like the National Museum of African American History and Culture, the National Women's History Museum, and the United States Holocaust Memorial Museum.
Remember to choose classes that you are interested in and challenge you next year. If you enjoy debating social justice and want to learn about the history of oppression in our society in a more holistic manner than in your history class, talk to Mr. Kerr or your counselor about Combating Intolerance during your scheduled academic advising.
Leave a Comment