Homecoming Week's Dedication to Former Principal Clifford Hardison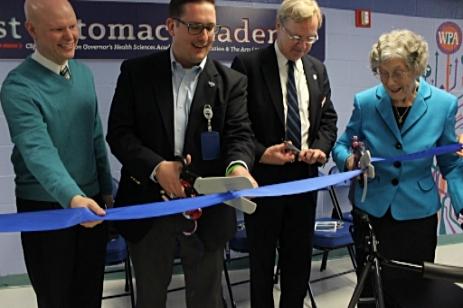 This past Saturday was the rededication ceremony of the West Potomac Academy to former principal, Cliff Hardison. Hardison was the principal from the fall of 2009 to the spring of 2013, before passing away from lung cancer on July 23, 2013 at the age of sixty.
Hardison was a much loved figure within the school and the community. The dedication ceremony was for honoring Hardison's commitment to bettering West Potomac as a whole.

"I'm very excited by [the ceremony]; it's been a long time coming," says current West Potomac Principal Alexander B. Case.  "It took some time to decide what we wanted the wall to look like. I met with  family to get the picture that they thought was best for the event."
Among the attendees of  the ceremony were Hardison's family, friends, former colleagues, members of the community, and current students such as SGA President senior Emma Kelly, who talked to the attendance about the importance of West Potomac.  Also in attendance was Scott Surovell of the Virginia House of Delegates, an alumni of West Potomac and a member of the first four-year graduating class at the school.  Surovell spoke on "what West Potomac was like back in the day" and how much the school has grown since.
"I think [the dedication is] a wonderful way to honor Cliff Hardison's commitment, energy, and passion he gave to making West Potomac High School a great place," says Surovell.
"It's a huge deal and it's really an honor. It's a credit to his support of the school and the wonderful things that he did to the school and I'm very proud and I think it's a fabulous thing," says Hardison's niece, Kim Parker.
Along with Parker was her sister Karrianne Hall, who adds, "We are very excited. This was an awesome way to celebrate [Hardison's] legacy. He was a great man."
Leave a Comment