West Potomac Ice Hockey Scores First Victory of the Season Against Woodson 7-4
The ice hockey team had a great start to the season with their win against Woodson High school at their first home game which took place at Mount Vernon Rec Center.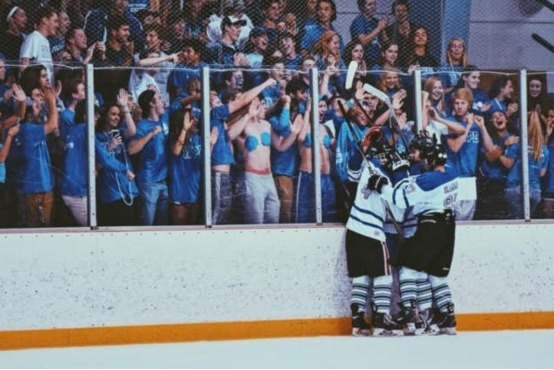 Coming off their CSHL (Capital Scholastic Hockey League) Championship win last February, West Potomac's ice hockey team were looking to keep their winning streak alive for their first game of the season against Woodson last Friday night. The game proved to be another triumph from the beginning of the first period, which ended with a nice lead 5-1, and ending with an overall victory of 7-4.
The team were already very familiar with their opponent, Woodson, and accredit their prior knowledge when discussing the outcome of the night's game. West Potomac and Woodson share a common denominator which enabled the teams to see each other well before their first game, which is their rink. The Mount Vernon Recreational Center is the closest ice rink to both West Potomac and Woodson High school, therefore both teams use the rink to practice. However, only West Potomac uses the Rec Center for home games.
"I had seen them [Woodson] practice multiple times and I know players on their team so I expected us to win going into the game" defensive player Sammy Entabi explained.
Careful scheduling allowed the school-spirited hype squad to show their support for both ice hockey's first game and varsity football's senior night, and resulted in an impressive attendance at the hockey game.
"All of the boys on the team love it when we get a big turnout to a game," explained center Jordan Tenenbaum. "It's only a few times a season when we have home games at Mount Vernon Rec Center so we have to make the most of it. You always have that extra jump in your stride and you are always trying that much harder when you have a solid hype squad cheering you on."
Loud chants could be heard from the stands as blue t-shirt clad hype squad members erupted in support for their peers out on the ice. Encouragements to individual players could be heard after they made a great play or scored.
"The crowd gets super into it and it's pretty rad hearing how loud and hyped they get for us," Tenenbaum added.
As for the rest of the season, he explained his hopes for more victories and support from the school.
"We're one for one this year so far in front of the hype squad so we are planning on keeping it going for them and ultimately the goal is bringing home the championship for the second straight year."
Leave a Comment