Administration Talks Digital Citizenship at PTSA Meeting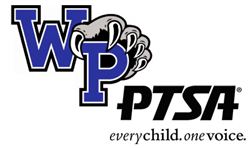 On Monday Nov. 9, Principal Alexander Case brought the topic of Digital Citizenship to the November PTSA meeting. He emphasized how important it is to not only instruct students on the responsibilities that come with technology, but to show how classrooms utilize electronics in order to create a more powerful learning environment.
The focus of the meeting was to show how education in West Potomac is changing to accept the use of technology as a learning tool instead of a distraction for students. The newly appointed Vanguard Tech Team has been put in charge of integrating technology into classrooms in order to deliver a meaningful and memorable learning experience. George Coe, an "expert on digital citizenship" dubbed by principal Alexander Case, showed how he implements technology in his classes.
Coe uses several different pieces of technology such as the program Face to Faith, which connects classrooms via internet calls to deliver face to face real time camera feed on each end of the call. Each call also comes with a Face to Faith employee who monitors the call and helps to keep the conversation flowing. Case emphasized that implementation of technology in classrooms like this are very helpful in creating a memorable learning experience.
During the meeting, school resource officer Wallace discussed the different offenses she deals with involving technology in the school. Citing phone thefts as the most common offense, she also claims threats and inappropriate images or text seem to be a fairly often occurrence seen in her line of duty. She also reminded the PTSA of the importance of keeping cell phones and cameras away when entering school locker rooms and bathrooms due to the private and sensitive nature of the areas.
The topic was concluded with a segment on the type of new technology currently implemented in various electives and classes. This includes the "State of the art television production equipment" that Case says is currently used in the TV production studio. This was accompanied by the new three dimensional imaging technology that is currently employed in the West Potomac Academy. The engineering classes also use advanced 3d Printers to further improve the overall learning experience.
The overall focus of the meeting was how West Potomac is moving toward a new technology-geared educational environment.
Leave a Comment