West Potomac Ice Hockey Beats Woodson Cavaliers, 7-0
West Potomac ice hockey scored a victory over Woodson High School, 7-0, at Friday night's game despite a traumatic injury to Right Wing #7 sophomore Jack Novak. The team started the game strong, coming out and scoring the first point with relative ease.
By the end of the first period, West Potomac was leading 3-0.
"Our first point was definitely memorable because it was one of our youngest players, Gavin Gustufson, to step up and make a good play. A play like that just pumps up the team," said junior Sammy Entabi.
Going into the third period, West Potomac kept their lead against Woodson when Novak was hit and severely injured.
"He got hit with about seven minutes left in the 3rd period and his wrist bent into some shape that I have never seen, junior Jordan Tennenbaum said. "The thing was swollen to the size of his leg. We thought we were going to have to cut the game short because of how long it took for the stretcher to come out and wheel him off."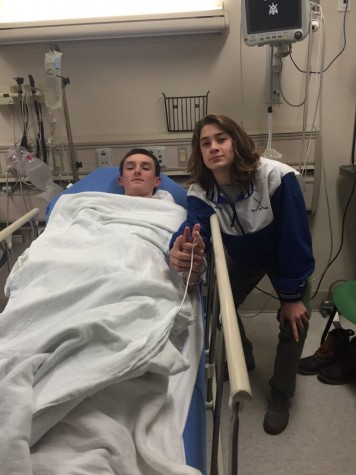 Although Novak doesn't seem to be on track to a speedy recovery, his teammates appreciate his contributions to the hockey team both on and off the ice and wish him the best in the recovery.  
"We'll definitely miss his comedy and attitude on the bench and in the locker room," said Tennenbaum.
The Wolverines take on the Edison Eagles next on Friday, Jan. 22 at Kettler Iceplex in Arlington.
Leave a Comment