Cold Temperatures and New Passing Time Lead to Overcrowding in the Connector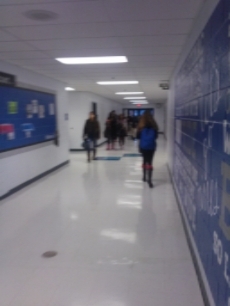 West Potomac has seen a dramatic increase in the number of students using the connectors to get to class this past week. Because so many people are trying to avoid the bitter cold outside, the connector has become overly crowded with all different students trying to get to different places at once.
The elongated 12-minute passing time after first period has served as a life saver for many students who used the connector to get to classes that are located in different buildings.
"I use the connector when I need to get to Gunston for third [period], but it's usually crowded because there's a lot of people. If it weren't for the twelve minute passing time that we have this year, I would be late on a daily basis," explained senior Sarah Yankson.
However, not everyone is as fortunate with their schedule. Many students who use the connector during a transition with an eight minute passing time are forced to either reroute and walk through the biting cold, or  risk being late to class.
"I used the connector once this week but I was late to class because there were so many people," said senior Neida Rivera. "Now I just use the outside route even though it's so cold."
Although the crowded connector poses a problem for many students, the issue is expected to elevate as spring arrives and the weather becomes more bearable.
"It's been really cold this week and sometimes it rains so I've had to use the connector. But I think when it becomes warmer later, people will go outside more," said sophomore Jaline Martinez.
The dense crowd in the connector is more noticeable this time of year because of the weather. However, the jam of people using the connector all at once has been a problem for the past few winters.  
"There are more people using the connector every year," said junior Diana Flores. "The school just keeps growing and the connector is hard to get through all year 'round."
Unfortunately, the general density of students in the connector during wintertime is a problem that won't be solved very quickly. It will take time for the school to adjust the number of students attending West Potomac.
"I don't think there's anything we can do as students," explained Yankson. "Our student body just keeps increasing in size every year and until [the school] is able to manage the population, the crowding is just going to get worse."
Leave a Comment