Model UN Prepares for CHMUN Conference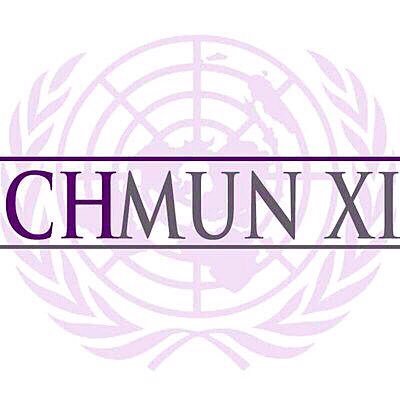 Senior Michelle St. John and her partner, senior Jackson Kosmacki, are researching the various environmental policies of Germany. However, they aren't researching this for a class. They will not be graded on the information they learn.
 Though most students around this time of year are busy with multiple projects, essays, college applications, and sports, the pair finds refuge in room 410 in upstairs Quander. They are in their weekly MUN (Model United Nations) meeting, writing their position paper for an upcoming conference at Chantilly High School, also known as CHMUN. CHMUN is a popular annual conference that many schools in Virginia attend each year.
"A position paper is something that you write before a conference that present your country's view on the topics and possible solutions/resolutions," said St. John. "It's a way for the chair [the people in charge] to tell how prepared you are. It's also a criteria when it comes to awards [which are awarded for the Best Delegates at the end of the conference]. It's important because it is a basic culmination of all the research that's been done for the country and a summary of what your viewpoint will be during the conference."
Meanwhile, club co-presidents seniors Logan Petkosek and Olivia Ireland are quickly reviewing parliamentary procedure (or the rules and customs of the United Nations) with other members attending CHMUN. This year is West Potomac's second year attending.
"Last year before CHMUN [everyone in the club] was a little nervous, because it was our first real conference," said Petkosek. "I think people have gotten a lot stronger this year, and I can't wait to see how everyone does."
Ireland also agreed the club has grown both in membership and in skill over the past year.
"I see a lot of promise in the club, and there are a lot of new people [this year]," said Ireland. "I'm excited for these people to go and try out these new conferences because I think they will be pretty good at it and I'm excited to see new growth."
MUN is known as a highly research based club, especially when it comes to preparing for a conference. Not surprisingly, many members find this part exciting and fun.
"My favorite part about getting ready for a conference is researching a country because I learn so much about that country's viewpoint," said St. John. "Even though it's sometimes tedious," she added, "it's neat to be learning about topics that are relevant. My least favorite part is probably also research, just because at first it can be interesting, but once you get really in depth it tends to be very tedious."
CHMUN was held on Jan. 8 and 9, and took up almost all of the weekend for its participants. Despite this fact, St. John doesn't mind the time and dedication the club requires.
"I joined MUN because I liked how different it seemed than other clubs like debate, where you are just arguing against each other," she said. "MUN is about teamwork and working together to pass resolutions, though still in a competitive setting."
Leave a Comment