Women's History Month 2016: Ruth Bader Ginsburg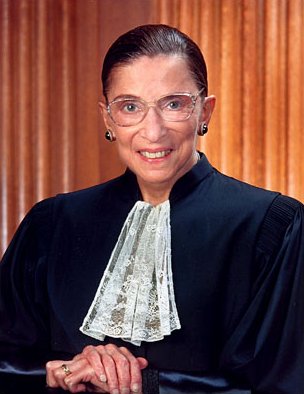 Associate Justice Ruth Bader Ginsburg has fought her way through adversity and hardship to  reach her seat on the Supreme Court. With a career spanning almost half a century, Justice Ginsburg has continuously stayed "on her game" as an advocate for women's rights. She graduated from Columbia Law School in 1959, at the top of her class. She had transferred from Harvard Law, as her husband had accepted a job in New York. While at Columbia, she was caring for her daughter and husband who had been diagnosed with cancer; attending his classes and her own.
Despite her spectacular academic record she was not exempt from gender-based discrimination. Ginsburg couldn't be stopped however, as she was soon able to find work clerking for U.S. District Judge Edmund L. Palmieri.
From this point, she was a true force to be reckoned with, going on to become the first female professor with tenure at Columbia, a professor at Rutgers College, and the director of the Women's Rights Project of the American Civil Liberties in the 70s. The Women's Rights Project was created to take on cases of gender discrimination, cases no one else was willing to defend. It was with this position that Ginsburg emerged as a leader in the fight against gender discrimination, arguing in front of the Supreme Court for six landmark cases and winning five of the six.
Ginsburg wasn't just dedicated to securing equal rights for women, she was fighting for equality between both genders. As she was arguing for equality for millions of voiceless American women, she herself was still subject to gender discrimination; at one point having to hide her pregnancy from colleagues at Rutgers.
In 1980, Ginsburg accepted her appointment to the U.S. Court of Appeals for the District of Columbia. Thirteen years later, in 1993, Bill Clinton appointed her to the Supreme Court of the United States.
Ginsburg has been serving on the Supreme Court for 17 years now, at 82 years old. Many have wondered if she will retire soon, but Ginsburg still has work to do.  Having not missed a day of oral arguments, she confirms her reputation as one of the most avid questioners on the bench.
She would continue to attend her appointments, even after her treatment for pancreatic cancer and the day her husband died. If any worry she's too frail to continue doing her job, Ginsburg works out with a personal trainer at the Supreme Court and, it should be noted she's able to lift more than both Justices Breyer and Kagan.
Ginsburg stands as an iconic leader for the women's rights and feminist movements. Her countless contributions to the betterment of women's health, moving towards equal pay, and a discrimination free workplace ensure her a lasting legacy as brilliant lawyer, resilient mother and wife, and one of the most dedicated judges on the Supreme Court.
Leave a Comment