Juniors Tackle the Writing SOL
The Class of 2017 takes the Writing SOL starting on March 14th.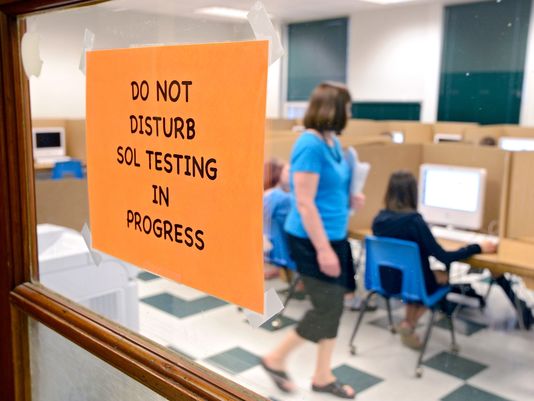 What do you think when you hear the acronym "S.O.L."? Students in Virginia often think of the Standards of Learning exams, or SOLs. Love them or hate them, depending on what classes you take, most students have to take the SOLs every school year. The SOL test, which satisfies the No Child Left Behind Act passed by then-president George W. Bush in 2002, was first proposed in 1992 after Virginia tried to adopt Common Core Learning. Holding various debates on the subject, Virginia decided not to turn to Common Core and instead replaced it with the Standards of Learning. After taking input from parents, the Virginia Department of Education approved standards in four core subjects: english, mathematics, science and history in 1995 and implemented the first SOL tests in 1998.
Now, students are required to take the SOL standardized tests given at the end of each school year in the four core subjects from third grade until the end of high school.  While most subjects, such as math and history, require students to take a SOL after almost every single grade, the writing SOL is only administered to eighth and eleventh graders and is taken in two parts: a multiple choice grammar test and an open-ended essay, usually on different days in March, instead of the usual May to give time for the essays to be scored.
"[The writing SOL] certainly seemed to come up very early, but it's nice to have one test fewer in the May-June testing insanity period," said junior Juliana Sprague, who is taking AP Language and Composition. "It's kind of nice to just take the two tests and be done with standardized testing for a while."
This year, juniors at West Potomac started taking the Writing SOL the week of Mar. 14.
"I definitely think the writing portion [of the SOL is more beneficial to students] because it's one thing if you can understand a concept but it's much harder to actually apply it to your life and set of skills," said junior Peter Skudlarek, who also takes AP Language and Composition.
While he admitted that he thought the multiple choice section of the exam is an "easy pass," although the writing portion he viewed as more of a challenge.
"I wasn't really nervous because the writing SOL, or at least the multiple choice portion, kind of has the reputation of being a joke," he said. "It feels like very basic comprehension to me but writing is largely subjective so it can be frustrating."
Junior Charley Constantino, who takes English 11 Honors, felt similar going into the exam.
"I was not that nervous for [the Writing SOL]," said Constantino, "I studied in class for it." However, she added, "I do not agree [with the idea of] with having an English SOL this year. I think I would change it to sophomore year [if I could]."
Regardless of the timing of the SOL, the writing SOL is very important to pass. In fact, every junior has to pass it to graduate.
"I know standardized testing in general has become terribly over-emphasized in more recent years, which has certainly lead to a lot of controversy and opposition. Schools seem to focus so much on these numbers, when they typically aren't an accurate portrayal of students' ability or a school's success in educating them," said Sprague. "Everything considered, [English] it's what I truly enjoy. English is absorbing ideas presented by others, figuring out what they mean by analyzing every aspect, and gaining ways of thinking. It is the ability to take our own compositions of thoughts and feelings and knot them into something that can be presented to and shared with others. Every time I read or write, I'm amazed at the opportunity to share something or learn something, with only something as simple as words on a page."
Leave a Comment