West Potomac Hosts Annual Blood Drive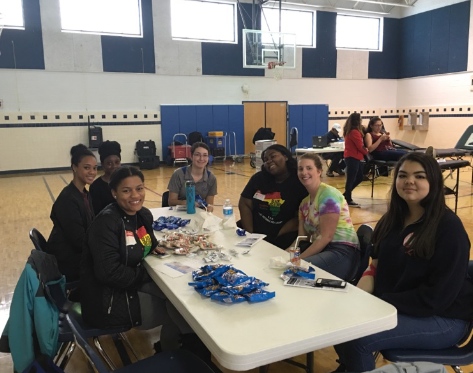 West Potomac held a blood drive with the Red Cross this past Friday, April 29.  Students 16 and older were encouraged to donate their blood to help save lives. Unlike last year's blood drive, members of the Black Student Union volunteered to help the Blood Drive remain a positive experience for everyone.
"It has been running very smoothly," said senior and President of BSU Kiya Wimbush-Robinson. "[BSU] is making sure that people who donate blood are getting a snack after they donate so that they don't feel light headed afterwards," she explained.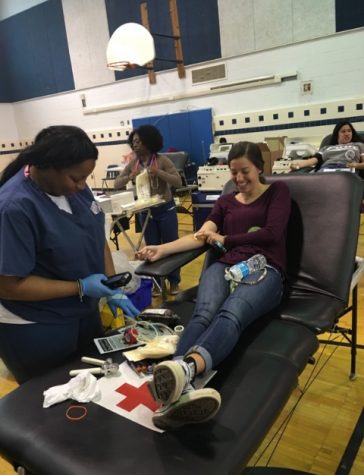 Students were encouraged to sign up for donation prior to giving blood so that the check-in process would run smoothly. Every student had their own reason for participating in the blood drive.
"I think it's really cool to help people out," said junior Samantha Cordon. "It made me nervous last year since it was my first time but this time it was better."
Although the blood drive was a unique once-a-year experience for some people, it is a well practiced routine for those drawing blood.
"I do blood drives all day everyday. We do a different blood drive everyday–but just one a day," said phlebotomist Deverie Moore. Though routine, the job is far from boring for Moore.
"I love [this job] because I get to meet new people and go to different places. I like helping somebody to help save someone's life," said Moore.
Before having their blood drawn, students were called up one by one to have their medical histories evaluated.
"They ask you whether you've been taking any weird medications or have been out of the country where you could a disease," explained junior Matt Fannon who had donated his blood for the first time. "They also did the iron test–and that hurt more than the actual needle [from the blood donation]–but my iron was fine," said Fannon.
Some students were turned away from donating blood because their iron levels were too low. Despite this, the blood drive ran smoothly and many students showed up to make it a success.
"Everybody's willing and eager and happy to come in and give [blood] so the day has been wonderful," said BSU sponsor and physics teacher Shari-Dyan Terry.
"For every pint of blood that is given out, three lives are saved so that let's us know that we're making a difference in the lives of other people–and that's what we're supposed to be as a community service group at the World's Greatest High School," said Terry.
Leave a Comment