Seniors Celebrate College Commitment for National Decision Day
For most college applicants, May 1 is the deadline to send in the SIR (Statement of Intent to Register), to the school they plan on attending in the fall. While some West Potomac seniors were accepted through early decision or early action processes, many were notified earlier this year either before or on the national admissions deadline, April 1, which is the last day schools can send out their letters of rejection or acceptance.
While picking what school to attend can be an important and daunting life decision, there is a sense of pride and achievement that comes with being accepted to one or more schools.
"[When she was accepted] I screamed so loud that my parents thought I hurt myself and I started jumping up and down like in the movies," said senior Trish Wheeler. "The first people I told were my parents who were in the room next to me."
After a rollercoaster of emotions in the admissions process from being deferred at Columbia University to being accepted on a binding decision to attend a school she hadn't visited, Wheeler was ecstatic to learn she was accepted to Vanderbilt University and plans on majoring in biomolecular engineering.
In a study from the National Association for College Admission Counseling (NACAC), more high school seniors are now applying to more colleges than ever before. At West Potomac, the numbers are no different.
"I had a different dream school every other month so I just applied to a bunch (11 schools) that I knew were fantastic by name and saw which one I could get in," added Wheeler.
However, applying to too many schools at once is a decision you should take with caution.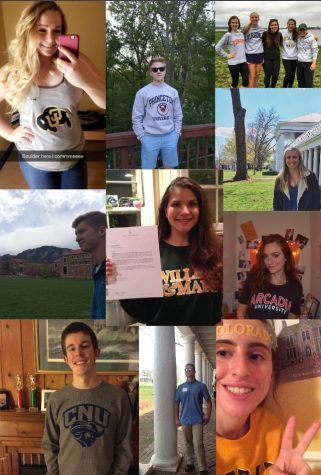 "I would have narrowed my focus on the schools I was applying to. I applied to too many schools and that showed in the quality of (some) of my applications," said senior Olivia Ireland, who plans on attending Tufts University in the fall. "I didn't have a dream school; I was all over the place (I applied to schools in NYC and rural Pennsylvania). At the end I just visited and listened to my gut."
When it comes to college decision making, many seniors attributed visiting campus to being the final push that helped them to decide where to go. When you're undecided, sometimes visiting the school and being in that environment can help you picture where you want to study for the next four years.
"When I went to UVA's admitted students day ("Days on the Lawn"), I felt such a good energy," said senior Logan Petkosek, who plans on attending the University of Virginia (UVA) in the fall. "Everyone seemed so excited to be there and I could see myself spending more time on grounds. I didn't get that feeling at any other school I toured."
Senior Lucas Makinen, who will be attending Princeton University, is interested in studying physics or chemistry and was glad to see so many resources for his possible majors on campus when he visited.
"The coolest part of [Princeton's] campus that grabbed my attention when I visited both times were the labs–it blew my mind that students got to go straight from class and apply what they learn to real research," he said. "But aside from that, it was really neat to meet other kids who enjoyed sports or making music on the side in addition to the amazing academic subjects they're into."
While Makinen is excited to be attending the Ivy League institution in the fall, he explained that if he were to go back and change anything about his application process, he would've started earlier.
"I ended up procrastinating on my applications until winter break," he said, "which did not make for as merry a Christmas as it could have been."
But as far as advice for applying, he said rising seniors should consider investing a lot of time in schools that catch your interest.
"Look for schools that you think you'd really enjoy attending," said Makinen. "It's hard to write essays for somewhere that doesn't fit you."
Ireland suggested using the essays to write what you really care about.
"If you really want to go to a particular school, spend some time, write about something that makes you passionate (I literally wrote about pancakes for a bunch of my essays)," she said.
Wheeler also insisted on applying to places no matter how intimidating the numbers are.
"I would recommend if you want to go to a school, but you think it is a reach, still apply because each school is looking for something different!"
Leave a Comment