The Best of 2015
This article previously appeared in our December 2015 issue.
It's almost 2016, and The Wire is celebrating. 2016 marks a new year in our newspaper's history, and we are excited.
Though you might be glad 2015 is ending, the year did have great moments to look back on. The Wire staff voted on their top 5 "best" things in 2015. Here is the list.
Best TV Shows by Shahtaj Ali 
Parks and Recreation
Parks and Recreation ended its six year run in February, finishing off with seven critically acclaimed seasons. The show is centered around Leslie Knope and her fellow parks employees living in the fictional Indiana town of Pawnee. Parks and Recreation has gotten a large and growing fan base throughout the years, and earned an outstanding number of Emmy nominations. Parks and Recreation was able to balance both comedy and heart, making it a television programme that will be truly missed.
2. The Daily Show
3. A.K.A. Jessica Jones
4. Game of Thrones
5. Daredevil
Best Albums by Claudia Santa Anna–
25 by Adele
Returning from a four year hiatus, English singer-songwriter Adele released 25, her third studio album in November. The album's first single, Hello, debuted at No.1 on the Billboard Hot 100 Chart;  the 24th song in history to do so.
2. The Beauty Behind the Madness by The Weeknd
3. If You're Reading This It's Too Late by Drake
4. Honeymoon by Lana Del Rey
5. Froot by Marina and the Diamonds
Best Songs by Mia Slone-
Uptown Funk 

by Mark Ronson/ Bruno Mars
– Uptown Funk was recorded by British producer Mark Ronson, with the vocals by Bruno Mars. The catchy upbeat vocals kept the song featured as number one for an astonishing fourteen weeks.
2. See You Again
3. Shut Up and Dance
4. Hotline Bling
5. Can't Feel My Face
Best New Artists by Mia Slone–
Shawn Mendes
Shawn Mendes first appeared as a cover artist on the app Vine back in 2013, a year later the "vine sensation" was signed by Island Records and released his first EP "Life of the Party" in June 2014. The debut of his major EP peaked number 5 on Billboard's top 200 and won the Teen Choice award for Webstar in music. Now Mendes has released his first album Handwritten which had 10 songs and was debuted number 1 on the Billboard 200.
2. Halsey
3. Melanie Martinez
4. Tove Lo
5. Walk the Moon
Best Books by Shahtaj Ali
Go Set a Watchman by Harper Lee

Harper Lee's highly anticipated Go Set a Watchman was released in July of 2015. This is Lee's second novel, her only other published novel was the Pulitzer Prize winning To Kill a Mockingbird released 55 years prior. The novel tells a classic "fish out of water" story, of a young woman who travels back to her fictional hometown of Maycomb, Alabama from New York City; there she is confronted by the deeply racist attitudes of her father and peers.
2. Why Not Me? by Mindy Kailing 
3. Amazing Book is Not on Fire by Dan Howell and Phil Lester
4. Step Aside Pops by Kate Beaton
Best Actors/ Actresses by Amanda Ghiloni
Chris Pratt
Actor Chris Pratt had a busy year, from starring in blockbuster Jurassic World to ending his run on Parks and Recreation. Pratt came into this year riding on the success of Guardians of the Galaxy, and clearly kept his record of success going throughout this year.
2. Eddie Redmayne
3. Tom Hardy
4. Scarlett Johanson
5. Mellisa McCarthy 
Best Films by Amanda Ghiloni 
Mad Max: Fury Road 
The fourth film of the Mad Max series, Mad Max: Fury Road (released in May) immediately garnered acclaim with a 97% from critics and earned an 8.7/10 average rating on Rotten Tomatoes. "It's like a monster-truck motocross competition staged by a more nihilistic version of Cirque du Soleil, where the stakes are life and death." said Mike O'Sullivan of the Washington Post, which truly captures the essence of the film. The complex characters and interesting world-building captured the hearts of viewers, which brought it to earn over double the budget.
2. Jurassic World
3. Inside Out
4. Avengers: Age of Ultron
5. Furious 7
Best Awards Show Moment by Mia Slone
Nicki destroying Miley
This year's VMAs provided its viewers with an iconic moment of unscripted award show history. As Nicki Minaj took to the stage to give her acceptance speech for winning Best Hip Hop Video, she decided to throw a "shout out" at a fellow musician who had recently snubbed her in the press. Taking a pause after thanking her pastor, Minaj turned to the VMAs host, Miley Cyrus, and delivered the iconic line, "Back to this *$#%@ that had a lot to say about me the other day in the press, Miley what's good!?"
2. Oprah's lego oscar
3. First all female team winning best musical
4. Viola Davis becoming the first black woman to win the award for best actress in a drama
5. Kanye's Presidential Campaign Announcement
Potential 2016 Oscars Nominees by Amanda Ghiloni 
Saoirse Ronan for Brooklyn 
In Brooklyn, Saoirse Ronan  delighted viewers as Ellis Lacey, a recent Irish immigrant who is torn between her new life in Brooklyn with her romantic interest Tony, and her family back home in Ireland. Ronan performed the role to the greatest possible capacity, embodies and expressing all the struggles immigrants had. This performance is sure to impress the Academy in 2016.
2. Meryl Streep for Suffragette
3. Mark Ruffalo for Spotlight
4. Matt Damon for The Martian
5. Cate Blanchett for Carol
Best New Tech by Claudia Santa Anna
Hoverboards
Though the hoverboard, or a self-balancing two-wheeled board, debuted in China during 2014, it only became popular in the United States this year after multiple celebrity appearances using the board, including Justin Bieber and Wiz Khalifa.              
2. Tidal
3. Backpack speakers
4. The iWatch
5. Apple Music
Leave a Comment
About the Writer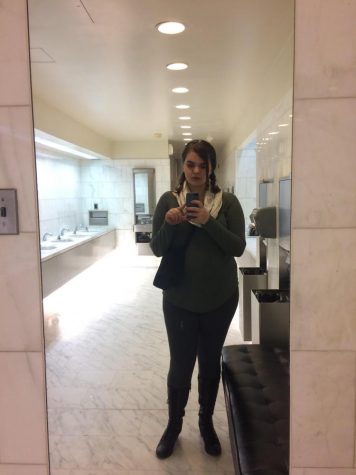 Amanda Ghiloni, Co-Editor-in-Chief
Amanda Ghiloni is a senior at West Potomac. It's her fourth year on The Wire. She enjoys doing graphic design for the print issues and helping teach the...