Reception Celebrates Senior Artists' Work
Seniors in the West Potomac art program were celebrated on Saturday, April 28, 2016. A wide variety of art from different seniors was shown off in the library from 7 to 9 p.m. with the artists present who included Rowen Berman, Kylie Bostick, Courtney Chauncey, Elizabeth Drotos, Sam Jansen, Sarah Jessup, Sydney Nixon, Lydia Perez, Ain Qureshi, Rebecca Schloesser and Hunter Vagt. All art teachers were present as well, including Bridget Dwyer, Kristina Nosal, Adam Sanchez and Amy Stoll.
Food, drinks and acoustic music were provided as many people came to check out the different pieces of art.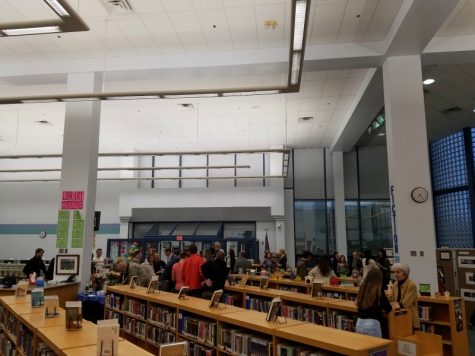 All artists who were represented last night had a small essay explaining what their inspirations and emotions they aim to convey through their art. While some stemmed from dealing with different mental illnesses, others stemmed from pure inspiration that they followed through with, but all of them were unique, true, and filled with pride.
One of the presented exhibits, by Sam Jansen, were technically drawn pictures (using a computer program) of places that he had traveled to and immersed himself in. All had a title of where the picture was depicting and a sub title that had a small but characterful statement of the place.
"When using digital media over traditional media (like pencil or pen), you use a lot different techniques. You use shapes (over freehand design) and old values of art so it'll be simplistic yet eye catching," said Jansen.
If you have not checked out the exhibits yet, they will be on display until May 8 in the library.
Leave a Comment