Students Host Charity Concert for Alice's Kids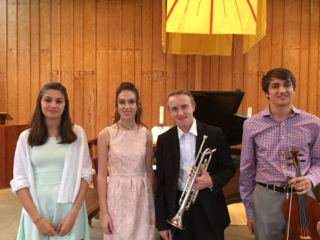 It's the Saturday before AP exam week, but for junior Charley Costantino, today is not for studying. Instead, she has a different type of test to complete. Today, she will be performing in a charity concert for local charity Alice's Kids, a concert that has been in the making since December.
Alice's Kids is a non-for profit organization that pays for the small needs of children, such as money for senior dues or for shoes, for students who cannot afford them. Alice's Kids was founded by siblings Ron Fitzsimmons and Laura Fitzsimmons Peter. They were inspired to start the charity in honor of their mother Alice, who did everything she could to provide for them even though they lived in poverty.
"I decided to [contact Alice's Kids to do a concert] because I saw an ad about the charity," said Costantino, who plays the piano.
From there came countless hours of practicing and preparing alongside her brother senior Eric Costantino, who plays the viola. Two other West Potomac students, junior Anna Katherine Bozard and sophomore Geoffery Gallante on the trumpet, also joined in.
"I learned about Alice's Kids from Charley when she asked me to perform in her concert. After reading more about the charity I thought it would be a really great way to raise money for kids in our area," said Bozard.
Bozard and Costantino performed four pieces together, with Bozard singing along to Costantino's piano music.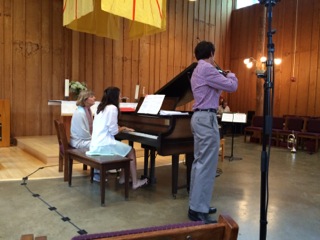 "I have been singing for six or seven years now. I study classical and operatic vocals but I just started vocal jazz performance around three years ago," she said. "Singing has always been a kind of magical escape for me. I just really love how every part of music is history, whether it's a composer from the 1800s or even the paper the music was printed on."

  Bozard even threw in a tribute to her jazz band in the piece, "A Day in the Life of a Fool."
"["A Day in the Life of a Fool"] has a lot of history with me actually," she said. "It was the first song I performed in Brazil when my jazz band toured there. I even performed it in Portuguese for Charley's concert!"
Overall, the concert, which was held at Saint Aidan's Church in Alexandria, proved to be a success.
"[The] concert was amazing," said Fitzsimmons. " What I liked about it was it was kids helping other kids."
Together, Costantino and the others raised about $2,500 for kids in need in our area.
To donate to Alice's Kids and learn more about the charity, click here. 
View Comments (3)