West Potomac Crew's Women's 1V4+ and JV4+ Boats Qualify for Nationals
On Saturday, May 14, West Potomac Crew's womens 1V4+ and JV4+ boats qualified for the 2016 Scholastic Rowing Association of America (SRAA) National Championships Regatta. They placed third and first place, respectively, in their races at the Virginia Scholastic Rowing Championship Regatta at Occoquan Regional Park.
After T.C. Williams High School pulled out of their race, the men's JV4 boat has qualified for Nationals as well.
This is the second state championship win for the women's JV4+ boat, which consists of juniors Rachel Hardison (captain), Rachael Brautigam (coxswain, whose job is to encourage everyone on her boat and keep them safe, as well as correcting their technique), Liz Brodie, Juliette Burcham and Natalie Lorca. The Women's 1V4+ boat consists of seniors Alyssa Pierson (captain), Alina Selnick (coxswain), and Emma Bass along with sophomores Shelby Pierson and Celia Lane.
Both boats were able to race in their heats, which are qualifying races that determine who goes to finals, where JV4+ received first place and 1V4+ received second place in their respective races. However, JV4+ was not able to complete their final after it was cancelled due to an incoming storm, while 1V4+ was able to continue and received third place in theirs, with a time of six minutes and 11 seconds.
"Shelby turned around to ask me if she thought we came in third once we came in third once we crossed the finish line, and I said 'No, I know we did,'" said Selnick. "Everyone's faces lit up as we turned the boat around to row over to the awards dock. That was such a great moment."
Because their final was cancelled, JV4+'s heat time of five minutes and 44 seconds was used to determine a winner and qualification for nationals.
"When the race started, we [JV4+ boat] were ahead from the beginning," said Hardison. "In the last half of the race, Rachael Brautigam, the coxswain, kept telling us how fast the boats in the other heats might be. It was pretty stressful to be racing boats we couldn't even see. We all knew that we went really fast, and we were together, and everyone pulled 100 percent, but we couldn't believe our time."
After they finished their heat in first place, JV4+ soon realized the weather was not on their side. Pouring rain, hail and powerful winds forced around ten boats including West Potomac's JV4+ to seek shelter in a cove by the shore, where they braved the storm.
"The [referees] sent us out for our final right before the storm hit so we were on the water when the winds picked up and the water turned into the ocean," said Brautigam. "I didn't feel like we were in any danger and I personally wasn't stressed out, but I could tell the girls were worried so I had to keep them calm, and keep us safe from being overcome by waves or being hit by other boats. We obviously made it out okay and had a great story to tell."
Despite the obstacles brought on by severe weather, both boats were proud of their accomplishments and even more proud of their teamwork, both on and off the water.
"I think a good part of how we do [so well] is because we are all so close," said Hardison on the bond that her boat has, in their second year of being together. "In a race, we are pulling for all of us, not just for ourselves, and I think that makes a big difference."
Selnick is a senior, and therefore, these are some of her last moments with her boat.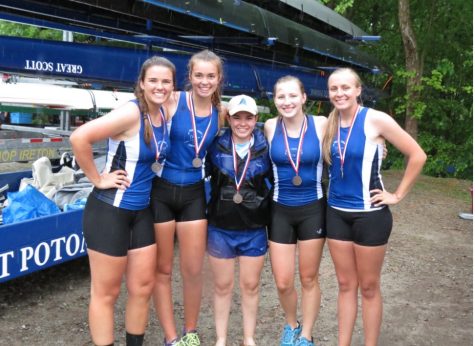 "I love all the girls on my boat so much," she said. "I'm so glad I got to share my last season with them."
Looking on to nationals, senior varsity captain Alyssa Pierson said that the best preparation is how they practice.
"Nationals will be a different game than we are used to here in Virginia because we will be racing amongst the fastest crews in the nation," she said. "My goal is to do the best we can and to row races that we are proud of."
View Comments (1)