Orchestra's Seniors Running Towards Graduation in Senior Night Concert

As night began to fall on Wednesday, May 25, eight close-knit seniors prepared for one of their last high school orchestra concerts. West Potomac's Orchestra's 2016 Senior Concert featured music hand-picked by the group, with almost every senior performing either a solo or a duet. The concert quickly proved to be bittersweet not only for the seniors, but for the orchestra as a whole.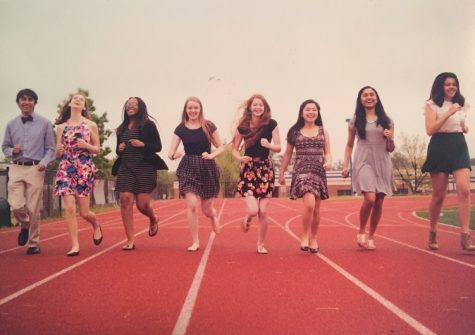 "One of the biggest things I've gotten from orchestra has been the sense of community in it," said senior Alex Bailey, who will be attending Hollins University in the fall. She plays the violin. "I'll miss having the opportunity to play…with my friends multiple times a week."
For her solo, Bailey chose to play Johann Pachelbel's Canon in D, with the rest of the seniors in the background. "[Canon in D is] one of my mom's favorite songs to play on the piano so I wanted to honor her with that, but I also think it's really beautiful and [I have] always wanted the opportunity to play it…I'm so happy all of the seniors got to play it with me, it was the best outcome I could have asked for."
Bailey thanked orchestra teacher Mrs. Day, who started at West Potomac when the seniors were all freshmen.
"Shoutout to Mrs. Day for being an amazing teacher and conductor. Being able to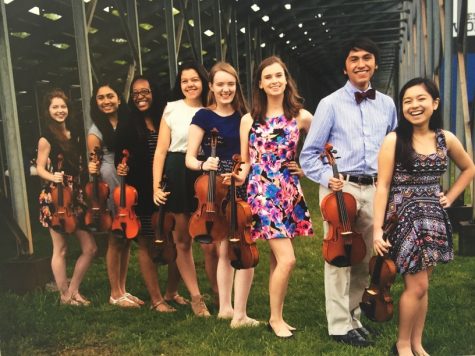 grow as a violinist individually and as a whole orchestra with her has been an experience I'll never forget."
Jan Saraum, who plays the violin, dedicated her solo to her friends in orchestra. Saraum will be attending Virginia Tech in the fall to pursue an engineering degree.
"I chose to perform "Long Live" by Taylor Swift [using vocals and on the ukulele] because I thought it was the best fitting song…because we've accomplished so much and have this shared experience together," Saraum said. "A lot of us have been friends since the 7th grade because of orchestra too. I also tried really hard not to cry, but seeing their reaction while singing just hit me. I kept telling myself to keep it together since my voice was shaking the entire time, but I think that made the performance more intimate and emotional."
Michelle St. John, who will be attending the University of South Carolina to study biology, chose to perform Concerto No. 5 1st Movement by Mozart as a challenging last piece.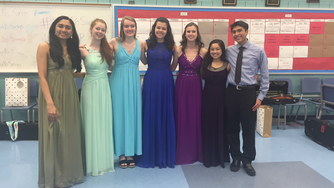 "I liked the feel of [the song]," St. John said, who plays the violin. "I actually didn't start out thinking I was going to play it, but I'm glad I did because it really challenged me to push myself. It is a classic piece anyone can enjoy."
Jason Vargas, who will be attending the College of William and Mary in the fall, also chose a piece he strongly enjoyed.
"I've always loved Tchaikovsky and the music he composed," the viola player said. "Sadly, as a violist there are very little solos for concertos composed originally for viola. So when I was trying to find something to play, I came across this violist who arranged many famous pieces into a viola and piano accompaniment. To my luck, I found an arranged piece [Tchaikovsky's Aveu Passioné] that I absolutely fell in love with."
In contrast to St. John and Vargas' challenging solos, Mikial Boyce, who will attend Northern Virginia Community College for two years before transferring to a four year college, wanted to include her little sister, Jamila Boyce, in her solo performance. Boyce, who plays the violin, chose to play To The Market by Berthold Tours.
"I didn't want to pick something that would be too hard for her to play," Boyce said.
Boyce added that she was extremely excited to graduate.
"[Graduating] makes you feel like you've accomplished something to take you to the next step. I'm very excited [to start life] on my own."
Though all shared Boyce's excitement, the seniors also agreed that graduating from high school felt a mix of bittersweet and surreal.
"I'm still in shock…, it doesn't feel real," Bailey said. "We've been in school for 13 years all leading to this moment."
Her peers added to her comment.
"It feels so weird to be graduating," said Revathi Mohan, who plays the violin. "It's that time of year when you're looking back and seeing your friends and memories made since middle school even, and you're seeing the start of a whole new world in front of you that's completely different. I'm excited but also really sad to be leaving some of my friends."
"I'm very excited to be graduating," said Saraum. "High school was overall a great experience, but I'm ready to move on to a new chapter. I feel like I'm going to miss seeing my friends on a regular basis, but even in college most of us are definitely going to keep in touch."
Though the seniors said they excited for the next chapter in their lives, they admitted that high school would've be different without having orchestra every week.
"Orchestra has had such a massive impact on my life," Logan Petkosek said, who plays the violin. Petkosek performed Concerto for 2 Violas by Teleman along with Vargas, and Bouree by Johann Sebastian Bach as a solo. Petkosek will be attending the University of Virginia in the fall.
"I moved to the area in 7th grade so had I not continued orchestra [that year], I've would never had met my now closest friends," she said.
Mohan, who will also be attending the University of Virginia in the fall, performed Concerto No. 5 1st Movement by Fritz Seitz for her solo. She mentioned that she would miss having orchestra class and performing along with her friends.
"I'm going to miss the feeling of playing in an orchestra. It's always special at every concert, to be up on stage, creating something beautiful…I cried just thinking of leaving [my friends]," Mohan said.
Orchestra senior quotes:
Leave a Comment