West Potomac Crew Women's JV4+ and 1V4+ Place 6th, 9th at SRAA Nationals
On Saturday, May 28, West Potomac Crew's Womens JV4+ and 1V4+ competed in the 2016 Scholastic Rowing Association of America (SRAA) Regatta in Zanesville, Ohio. The two women's boats were the first in West Potomac Crew's history to make it to the finals at the SRAA Regatta, and the JV4+ and 1V4+ ended up placing 6th and 9th, respectively, out of 159 teams represented and 489 boats in total.
The women's JV4+ includes juniors Rachel Hardison (captain), Liz Brodie, Natalie Lorca, Juliette Burcham and Rachael Brautigam (coxswain). The women's 1v4+ includes seniors Alyssa Pierson (captain), Emma Bass and Alina Selnick (coxswain), along with sophomores Celina Lane and Shelby Pierson.
While Saturday's events proved to be a historic accomplishment for West Potomac Crew, the women's JV4+ also prides themselves in being the only public school to be represented in the finals.
"[The difference between private and public school crew is] we have no money [from the school]* and rely on the community which is hard because the most people give [to fund West Potomac Crew] at one time is 50-100 [dollars] versus thousands from companies or [the] school," said Brodie. "There's very limited water time because we can't afford nice locations and equipment, and if our boats get damaged it takes a lot more [to fix them]."
*Crew is a club sport at West Potomac, which means they self-fund.
As crew is (for the most part), a team effort, not only was it required for the rowers to work together, but it has come almost naturally for them to be this close to one another, both on and off the water.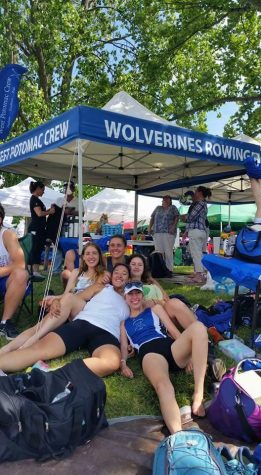 "In a sport like crew, there is a lot of trust involved," said Burcham. "It's very difficult to tell if someone's slacking off or not pulling their weight when you're rowing in the boat. I feel like a lot of the deep and raw feelings about my boat mates are developed in the boat and outside of it is where you get to build and enjoy the result."
For the seniors on crew, SRAA Nationals was the last regatta of their high school career, and for most, the last of four years worth of rowing.
"Crew was definitely the highlight of my four years at West Potomac," said Bass. "I didn't have any friends when I came [to West Potomac] because I didn't go to Carl Sandburg so it [crew] was really how I met all of my close friends today."
For her, going to Nationals was a great way to end her four years on West Potomac crew, as it showed how much their hard work paid off. She said she'll miss her boat, as they were friends outside crew as well.
"We [1v4+ boat] definitely all get along well," she added. "There were lots of jokes on our boat which I think helped settle the nervousness and pressure all of us were feeling and let us have rowing. We're all very serious about the sport, but knew how to loosen up when it was called for."
Bass will be attending the University of Virginia (UVA) in the fall as an Echols Scholar, and is currently training in hopes to row for the school.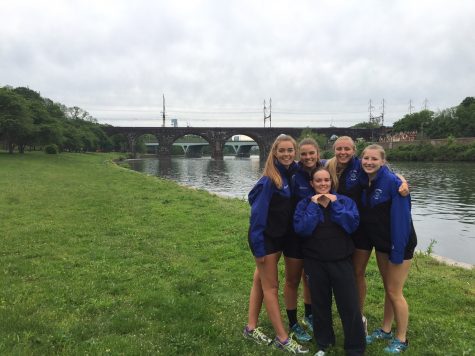 "No telling whether I'll make it or decide to stick with it, but rowing has just been such a big part of my life I can't see just giving it up now," she said.
As the seniors finish their high school rowing careers, the women's JV4+ has high hopes for next year, after being state champions two years in a row and making it to the finals at SRAA Nationals this year.
"My boat is very optimistic about next year when we race in the varsity category," said Burcham. "We believe our success is a good indication of how we will do next year too."
Leave a Comment