World Languages Department Holds Fifth Annual Co-Ed Soccer Tournament
On Thursday, June 2, the World Languages Department held their fifth annual Soccer Tournament, an opportunity for any West Potomac student to get a team together and play against others on the school's stadium field.
The event is held after school every year on a late bus day so all students have the opportunity to play, but with this year's change in school hours, players and volunteers had to be on the fields during seventh period in order to catch buses by 4:30 p.m. Additionally, this was the largest turnout tournament coordinator and Spanish teacher Brittany White has seen since she started planning the event in 2012. She managed to hold the event with a surplus of two teams as she usually accepts a maximum of eight teams a year, but not without having to turn down a couple of teams in an effort to make things work.
"This year's tournament was a challenge," she said. "Because I had accepted 10 teams, the tournament extended all the way to the practice field, so each round there were two teams having to run from the stadium field to the practice field, and due to the very strict time constraint of the tournament, there were only three to four minutes in between games."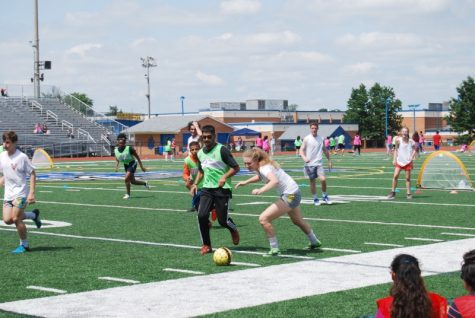 While teams were made up of all grades and all types of West Potomac students, the majority of participants in the tournament were English for Speakers of Other Languages (ESOL) students. When Latin teachers Robert Rigby and Jonathan Shev first suggested to White that they create a soccer team from the Latin and Spanish clubs, and eventually every foreign language offered at West Potomac, White insisted upon getting the ESOL students involved as well.
"I wanted to get the ESOL students involved and knowing we have a huge population of Hispanic students (31.8 percent to be exact), and other students from all over, many who have a passion for the game, and being a Spanish teacher, I just really wanted to get everyone involved, Hispanic or not," she said. "So even in the first year–it ended up being much more than just the language clubs."
Since the first tournament, the popularity in the event has grown immensely, due largely in part to the students' enthusiasm and White's efforts to advertise and convince students to participate.
"At first, I thought it was just going to be a few small sided games, nothing serious like the CopaAmerica or World Cup or anything, you know? But man was I wrong," said White. "The kids show up in full uniform, game face and everything. It's a serious event!"
For her, the most rewarding part of the tournament every year is giving the ESOL students a chance to participate in a school activity where they are doing something that they love. Some of them grew up without playing club soccer or in a league with professional training, and a selective tryout process for school junior varsity and varsity teams leaves these students with little to no opportunity to play the sport at school with other students. By starting the tournament even earlier next year, gathering more support from the West Potomac community and recruiting more people to volunteer on the field, White hopes to expand the tournament so that even more students are able to take part in the event.
"[The tournament] gives [all students] the opportunity to be apart of something, of a team. Even if it's just for an afternoon," she said.
Leave a Comment