West Potomac Raises Awareness with Diversity Week
Combatting intolerance, a class offered at West Potomac, promoted acceptance of diversity last week through different spirit days. Throughout the week students were encouraged to wear certain colors that support different social issues and minority groups. The intention of the week was to spread awareness about issues and discrimination that affect students at West Potomac. "The whole idea is to bring the school closer as a community by inspiring people to accept everyone no matter what." said Itiola Akingbola, a student at West Potomac enrolled in combatting intolerance.
The different days include: Orange or pink on Monday for women's rights, rainbow or tie-dye on Tuesday to support the LGBTQ community, red on Wednesday to support the Latino community, green on Thursday to promote Anti-Islamophobia, and black on Friday to support African American unity. "We chose colors that everyone had at home but also represented the groups that were on those certain days", Akingbola explained the classes decisions on the week, "The class voted on different days for each group of people, based on in class discussions we had about racial/social groups facing intolerance". Combating intolerance hoped to encourage West Potomac to be more accepting so that every student feels equal.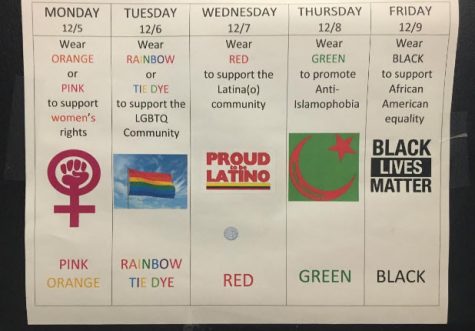 Leave a Comment