What Are West Potomac's Favorite Apps?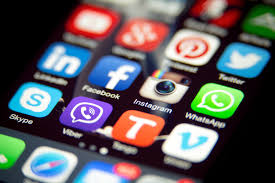 \When you see kids walking down the halls with their phones in their hands, have you ever wondered what they're doing or what game they're playing? 
"My favorite app would probably be Snapchat because it is really fast to use and when you send a picture to someone your name pops up right away so they can see it and respond to it," said freshman Jackeline Ortez. "I use it everyday."
Junior Kaycie O'Boyle said her favorite app was Snapchat as well. O'Boyle said it is her favorite app because, "all my friends have it and it's super fast and easy to communicate with them."
 She mentioned she likes to see what her friends are doing and that it's fun to see what funny pictures they send using the filters.
Snapchat and other social media apps seem to be the most popular at West Potomac, however, some students would agree with students like junior Harrison Cochones and freshman Mackenzie Rivera because their favorite apps are more for entertainment.
Cochones said, "My favorite app is Eight Ball Pool because it's a time killer and I get to have fun playing with my friends."
Rivera said that, "My favorite app would have to be Netflix because I use it everyday after practice. It's an easy way to watch all of my favorite shows like Greys Anatomy, One Tree Hill, Gossip Girl and How I Met Your Mother."
Apps play a big role students lives to keep them entertained and communicated at all times. They are used frequently between lectures, after class and school and in the cafeteria.
Leave a Comment