West Potomac Theater Rises to the Occasion for "Night of the Living Dead"
As the opening night quickly approaches West Potomac theater is perfecting and polishing their production of Night of the Living Dead. With hopes of terrifying the audience with this classic thriller, the theater program has dedicated themselves to providing an interactive and engaging experience.
The play is advertised as a 4-D show that includes a splash zone; Ella Moore, tech manager and actress in Night of the Living Dead, explains how the splash zone is intended to immerse the audience into the play, "Everyone in the splash zone will most likely be covered in guts, blood, or both! We're going for a very interactive feel, we'll even have zombies in the audience and around the theater so you'll feel like you're in the play itself".
Ella Moore elaborated on the creativity and expertise that her and her team put into the production.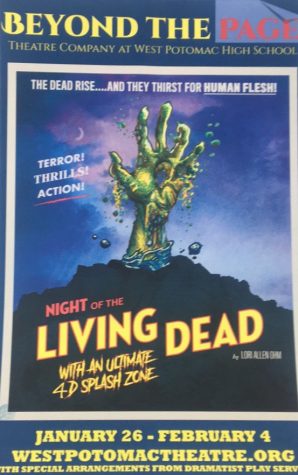 Moore says, "The play is definitely special because it gives the actors and tech generously more free reign for creativity and exploration than other plays in the past. So much research goes into simple things like the zombies, how they look walk and sound are critical parts to making them scary to the audience". Moore and her team also faced some restrictions in the production as she addressed the fear of overshadowing the play itself saying "The hardest part is making sure that all of the special features don't take away from the main idea and plot line of the play. The real show lives in the main characters, the tech and special features build around the characters, we don't want to take too much attention away from them". 
Night of the Living Dead opens on January 26th and has showings until February 4th.  
Leave a Comment