Review: Take a Trip to Avenue Q!
WestPo's Avenue Q School Edition debuted Nov. 7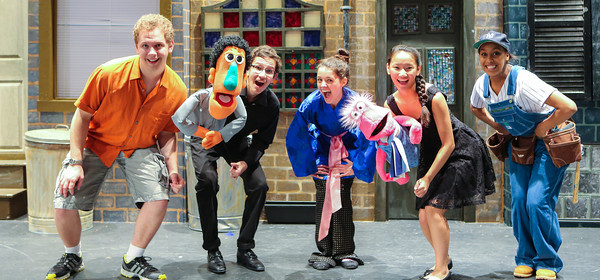 Avenue Q School Edition, written by Robert Lopez and Jeff Marx, is currently in production on the stage at West Potomac High School. West Potomac's Beyond the Page Theatre Company brings Lopez's and Marx's edgy, witty, and clever music to life with its effortless puppet movements and excellent execution of the songs from the popular Broadway musical. Directed and choreographed by Phillip Lee Clark, with musical direction by Cathy Manley, Avenue Q School Edition left me laughing along with the audience to the comical script and humming along to the musical's infectiously catchy songs.
Princeton (David Jarzen), a recent college graduate with a B.A. in English, finds himself on Avenue Q looking for an apartment. Princeton meets his new neighbors, one of whom is child star Gary Coleman. A neighboring married couple, Brian (Peter Serle) and Christmas Eve (Nikki Amico), introduce Princeton to Kate Monster (Lizzy Rader). Princeton explains he is on a mission to find his purpose in life and Kate shares with him that she wants to open a special school just for monsters and their friendship develops. Avenue Q School Edition highlights the harsh realities of the adult world and how things won't always turn out the way they are planned.
The cast of Avenue Q School Edition consists of both people and puppets. The puppeted actors performed without missing a beat with their puppets. The actors' voices and their puppets' mouths were in perfect sync, and whenever a non-puppet character was talking to a puppet, the actor never failed to maintain eye contact with the puppet and not the puppeteer.
Musical director, Cathy Manley and Kendell Haywoood performed the show's musical score flawlessly on keyboard and drums. With the exception of a few minor characters using character voices, all the characters could be clearly heard and understood. The character voices of Christmas Eve (Amico) and Trekkie Monster (Sam Rainey) were especially well done and were very appropriate for their characters. Amico's Christmas Eve Japanese accent could be heard clearly in her speaking lines and in her songs, as well as songs she sang with the company.
Designed by director Philip Lee Clark and building lead by master builders Ella Moore, Natalie Jurkowski, and Brittany Dale, the stage lighting and the set's backlighting enhanced the mood of each scene. The addition of video anecdotes created by Dan Evans, Alex Toone, and Austin Loan, throughout the show explained word definitions that were a part of the story. The anecdotes also served as the show's omnipotent narrator, much like the one heard on a popular children's television show.
Some of the show's characters stood out more than most. Brian's performance of "I'm Not Wearing Any Underwear Today" was a brief moment of physical comedy fun. The Bad Idea Bears also provided a great deal of comic relief, moving the show along as they push characters to do things out of their comfort zone, much like that of the real world. Lucy (Emily Carbone), equipped with red boas and hair flips, was unforgettable, and her haughty and attitudinal performance of the song "Special" was one of the show's highlights, finished as it was by Carbone's performance of a split.
The numbers "It Sucks To Be Me,""If You Were Gay," and "Everyone's A Little Bit Racist" were crowd favorites, with their simple dance steps combined with puppet movements. "It Sucks To Be Me" sung by the company opened the first act and set the bar high for the rest of the production. "If You Were Gay" sung delightfully by Ben Roberts and Eddie Perez and "Mix Tape" sung by David Jarzen and Lizzy Rader set the bar even higher as the most touching performances of the show, with each song featuring two puppeted cast members singing about their relationships with each other.
During the second act, the show's company walked through the audience while singing "The Money Song," holding out hats to collect money for Smile Train, a charity seeking to raise awareness and money for cleft palate surgeries. Money collected from "The Money Song" during all performances of West Potomac's Avenue Q School Edition will be going to Smile Train.
West Potomac High School's superb production of Avenue Q School Edition (rated PG-13) has brought the popular Broadway musical to the local stage for both humans and monsters alike, regardless of race, color, creed, or sexual orientation, to enjoy.
With a running time of two hours including a fifteen minute intermission, Avenue Q School Edition plays November 7th, 9th, 14th, 15th, and 16th at 7:00pm and on November 17th at 2pm 2013 at West Potomac High School  – 6500 Quander Rd Alexandria, VA. For tickets, you can purchase them at the door, or online at http://wphsavenueqschooledition.brownpapertickets.com/.