FCDOT Holds Public Meeting at Groveton Elementary
In order to better accommodate a growing biking community and promote alternate means of transportation, the Fairfax County Department of Transportation (FCDOT), Virginia Department of Transportation (VDOT), and Supervisor McKay have proposed new Bike Lanes on Harrison Lane, Vantage Drive, Rolling Stone Way, Bedrock Road, and Memorial Street at a community meeting on February 16 at Groveton Elementary. Since these and the surrounding roads are expected to be repaved later this year, the Fairfax County Department of Transportation and the Virginia Department of Transportation are using this opportunity to add bike lanes in the community at a low cost to taxpayers.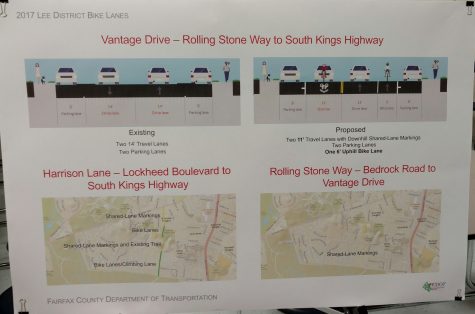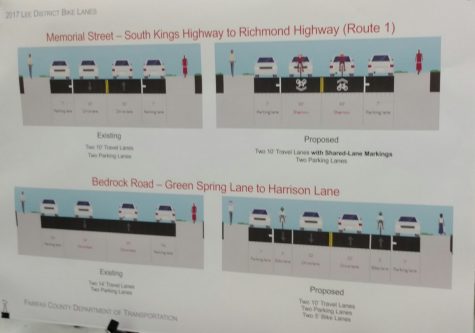 The proposal consists of a combination of normal, shared, and climbing bike lanes and no changes to the barrier located on Bedrock Road.
The meeting acted as an opportunity for local community members to give input on the situation as well as accept any recommendations or comments on the Proposal.
"We want to make sure we have the community behind it before we move forward" said Supervisor McKay.
This is part of a larger initiative to renovate transportation around the Route 1 Corridor as the Embark Richmond Highway Advisory Group has also proposed dedicated Bus Lanes from Fort Belvoir to the Huntington Metro area.
The community meeting also acted as a meeting for the Fairfax Alliance for Better Biking (FABB), a 501(c)(3) nonprofit organization of volunteers that advocate for safe and convenient biking facilities in Fairfax County. The group had come see the new provisions and hold a quick membership meeting afterwards.

When asked about the proposal, FABB member Douglas Stewart said "It's cost effective, you know, if you're doing it you might as well use the opportunity and actually put in bike facilities and over time you build a bike network and you create the conditions where you can feel safe bicycling."
The meeting brought members from various parts of Fairfax County such as Vienna, the Huntington Metro area, and Mount Vernon together to observe the new proposal.
The bike lanes are expected to painted in either the Summer or Fall of 2017.
Leave a Comment