FCPS Takes National Lead in Concussion Prevention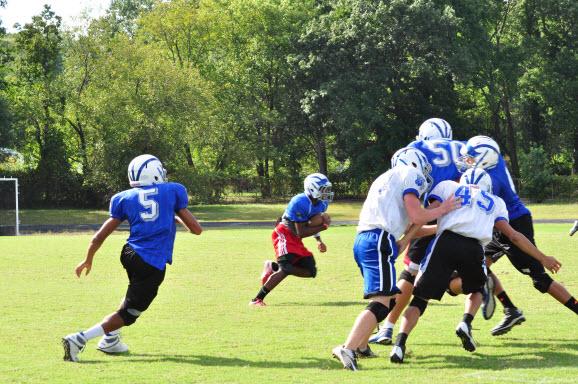 With concussions on the rise in high school sports, what is being done to protect athletes?
Concussions are becoming an epidemic in schools across the nation. While they have always been present in sports, research in recent years has shown that concussions are a much more serious problem than had previously been realized. With these issues coming into the limelight, changes are being made by Fairfax County Public Schools and USA Football, both agencies taking the initiative to become national leaders on the safety front.
FCPS boasts some of the highest concussion rates in the state of Virginia. To combat the problem, the county requires the presence of two certified trainers per school, who work long hours by attending every practice and sports event. During every West Potomac practice and game, there are two athletic trainers on site, themselves trained in injury prevention and rehabilitation. The presence of trainers throughout the school district makes medical attention much more accessible to student athletes, and ensure that the well-being of the athletes always remains the first priority. Because of this, many concussions that otherwise would have been ignored are being diagnosed and treated accordingly.
Among all school-sponsored sports activities, football takes the most heat for concussion risk. According to a study performed by MedStar Health spanning from 1997 to 2008, football accounted for more than half of all concussions sustained by FCPS high school athletes. This number indicates that football produces three times the "athletic exposures," or incidences in which an athlete is involved in one athletic activity than that of lacrosse, the second leading sport in terms of concussions sustained.
One figure making a positive difference is West Potomac's head football coach Jeremiah Davis. Coach Davis himself was a high school and college athlete. During his football career, Davis suffered six concussions, the last of which prematurely ended his playing days for good. Due to this, Coach Davis says that he is especially sensitive to the issue. "I wouldn't want any kid to suffer a career-ending injury like myself. That stinks, to not be able to play any more because of something that could have been prevented."
Some of the biggest changes brought about already in Davis's short tenure at West Potomac have been weekly days without pads and contact. Additionally, Coach Davis was part of a committee consisting of a dozen local coaches tasked with designing a practice plan, aimed at maximizing the efficiency of practices while also minimizing risks. This schedule includes neck exercises to build muscle in high-injury areas, and ample time to warm up and ease into the daily grind of hitting, while limiting the daily amount of "game-like contact" to only 20 percent of practice. The rest of contact in practice is controlled, focusing on form and making safe hits.
Other factors are also helping, including improved helmet technology and education. Helmet companies like Riddell have taken giant steps over the past decade, in efforts to create the best possible protection for the heads and brains of athletes. Because of the actions taken to increase football safety, the annual increase in concussions in football is less than half of the 17 percent increase seen in lacrosse.
West Potomac Varsity Lacrosse captain Kyle Matthews sees the progress taking place and wishes the same would happen in lacrosse. When asked about the discrepancy in attention paid to safety between both sports, Matthews said, "I believe that football helmets have so much more protection than lacrosse helmets. A football helmet on a lacrosse field would look stupid. However the difference in protection is absurd. As a player and captain, I wish the amount of research into concussion prevention that has gone into football helmets would go into lacrosse helmets. While the number and intensity of contacts differs greatly between the two sports, the chance of a concussion is still there."
Summing up the efforts of the football team to reduce concussions, Coach Davis said, "The biggest difference I saw was in our freshman level. They don't know a bad way to tackle; they haven't learned bad technique. Even little leagues are teaching the same thing. It's very evident that they're playing the game the right way, and in a couple years that will just be the way it's done. I think we're going in the right direction."