What is a "Springbanker?"
The moment you walk into Springbank you are hit with the smell of paint, the sound of music, and the joyful laughter of students exploring the fine arts. Springbank is home to most of the unique fine arts classes available to take at West Potomac. These classes include your average theater, band, orchestra and art but also includes many other options such as computer design and ceramics. The myriad options for classes brings a diverse environment of students to Springbank. These students bring many different opinions and experiences from their times at Springbank.
Heather Thompson, a freshman, is taking Mr. Sanchez's Art Foundations class.
"A good thing about having a class in Springbank is that it's a good working environment but, it's far away from other buildings. Another good thing is that it's usually really quiet, there's not that many people."
Thompson comes from the trailers close to Gunston so she has got a bit of a walk. She said that she does manage to make it in time for the bell but she has to walk a little faster than she normally would.
 "I would classify a Springbanker as a creative and opened minded person. They're not afraid to be themselves around everyone. Springbank is a fun building and a good place to learn but I feel like people might think that it's for like, geeks or weird people but it's not," Thompson said.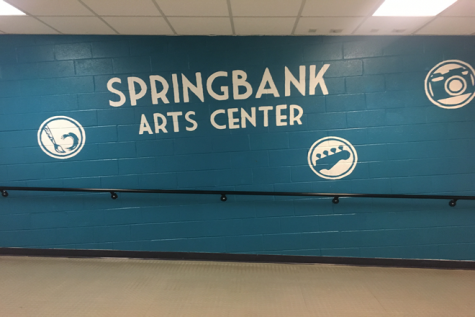 Vanessa Ruvalcaba Albarez, senior, is taking her first year of both Photography and Ceramics.
" My favorite thing about this class is that you learn new things that you usually don't learn in your other classes." said Albarez, "Being in Springbank gives you a nice break from your core classes."
"You get to discover your own talents that you didn't know you had, a lot of people think that Springbank is only for talented people but everyone is welcomed."
Because of Springbank's welcoming environment, it allows students to let loose and be themselves.
 "The weirdest thing I've seen was when the theater kids were walking around the halls with their Night of the Living Dead makeup on," said Albarez.
Freshman, Jack McKone, had a different opinion.  McKone is in Mr. Stolls Photography class.
"I am kinda annoyed about the fact that I have to walk outside in the winter but I do enjoy getting to laugh with my friends while also learning about photography."
When the term Springbanker comes to Mckone's mind he said he thinks of an "out-going character"
Springbank has it's pros and cons. Students don't enjoy having to walk outside but enjoy the atmosphere Springbank provides.
Leave a Comment