Boys Lacrosse Prepares for Spring Season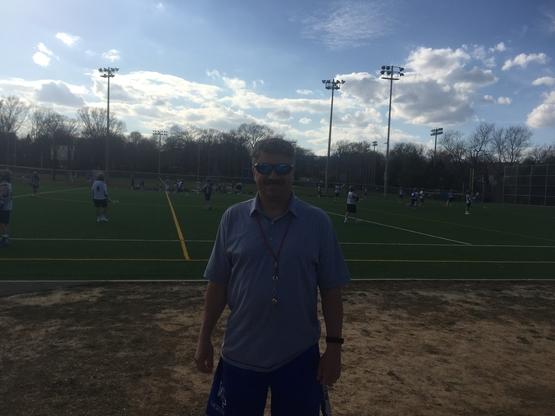 Tryouts for junior varsity and varsity spring sports recently concluded. Each tryout participant has to meet the sport's standards in order to make the team, as they all require hard work and dedication from both the coaches and players. This is especially true with new varsity teams.
According to Coach Stamos (S.), the head coach of the boys'  junior varsity and varsity lacrosse teams, preparing for the heat of a fast approaching Spring season for athletes includes both physical and mental training. Practicing simple lacrosse and stick drills (involving throwing and catching with a lacrosse stick), conditioning the body, and, most importantly, ensuring that each player is keeping positive grades are all top priorities.
"The most important [thing a player can do to get ready for spring season] is make sure their grades are good so they they can survive the season and not end up getting pulled out to go to after school catch-up." said S.
From an athlete's perspective, training can be intense and time consuming. Students trained for weeks prior in and out of school to give their all on the designated practice dates.
"[The most difficult task was], the conditioning…the running is pretty difficult, especially coming off of the off-season." said varsity athlete and junior Alex Ryscavage.
Specific drills were implemented to varying degrees of difficulty.  
"[We ran]…440 yards…three times with a five minute break in under a certain time," junior varsity player and freshman, Max McCullough said.
Conditioning helps players become physically ready for the game by building strength and endurance. This year, the team included a group of players who are dedicated to training time before school for two and a half months.
"I worked out, probably three times a week, for like a month before tryouts," said varsity player and senior  Mike Sherrer.
According to S, lacrosse tryouts were a success. Many players they recruited and athletes put a great amount of work into their performance.
" We had right around 60 players split between JV and Varsity…I think the players did a good job of getting themselves ready for tryouts," he said.
The West Potomac lacrosse team looks forward to making major improvements on the field, and is believed to be starting out strong.
"The level of lacrosse skills is up across both teams…I think in the past we've had to really work hard on [building skills] throughout the season, and this time we're starting higher so that should translate to some more successes during the game." said Coach S.
Every sports team has challenges and difficulties. Keeping the whole team on track can be especially difficult for lacrosse.
"[It'] challenging [to get] all of the coaches and all of the players focused…whether it's for practice or the game or the whole season," he said.
When challenges do arrive, coaches keep a clear mind and focus on their purpose.
"Our goal [is to] make sure everybody finishes the school year being successful academically," said S. "[And to] improve throughout the season [and] to prepare the players for the next level, whatever that is."
West Potomac players and coaches encourage the student body to celebrate "the fastest game on two feet" by coming out to support boys' lacrosse at their home games.
The West Potomac lacrosse players also indicated how they feel very confident for the season. They expressed how great their team is, and their excitement for winning some games.
"I think we're state champions already, I think you guys can give us the trophy now," said Alex Ryscavage, who plays for the varsity team.
He then explained the easiest and challenging parts of trying out for the sport. "[The easiest part is] probably still like the passing and catching, since I've been playing for a little while now. The running, probably the conditioning, that sucked. Yeah the running was pretty difficult, especially coming off the off seasons," he said.
Leave a Comment
About the Contributor
Cami Santa Anna, Senior Editor
Cami joined journalism in her junior year because she loves writing.  She has been a tutor in the West Potomac Writing Center since Sophomore year. This...