World Beats: Spirit Week 2017
This week may have come up short in length but definitely not in spirit! The students of West Potomac showed up to school this week participating in a multicultural fest that allowed them the chance to express their pride for their country and learn about other countries at the same time. The diverse student population called for an amazing experience that brought all corners of the world to West Potomac.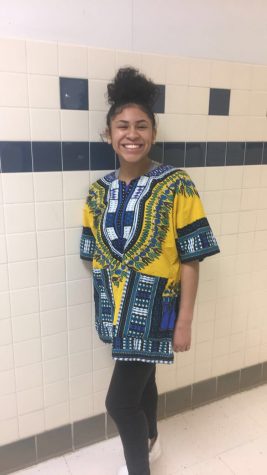 Monday: Africa #WPAfricaMonday
Some fun facts about Africa is that one of their favorite meals to eat is Piri Piri Chicken, specifically in Mozambique. It's chicken cooked with lime, pepper, garlic, coconut, and Piri Piri sauce. A traditional piece of clothing they wear is called a dashiki. A dashiki is a colorful piece of clothing that can be worn for formal or informal occasions. A student at West Potomac, Ashlyn Mejia, was a participant in Africa Monday.
"We wear dashikis mostly in the Spring and Summer time but people wear them whenever really, it's also something people would wear to church, there isn't any age limit to wearing these either, everyone wears them," she said.
Tuesday: Asia #WPAsiaTuesday
On Tuesday, West Potomac was recognizing all Asian cultures such as Chinese and Japanese. In China, a big tradition is celebrating Chinese New Year. This year, it was on Saturday January 28, 2017. In 2018, Chinese New Year will be Friday, February 16, 2018. In Japan, Kimonos are traditional garments usually worn for more formal occasions such as weddings and festivals. They are full length robes that are usually paired with traditional footwear like getas and split-toe socks. They are also known to be seen as a very polite piece.
Wednesday: Europe #WPEuropeWednesday
A typical breakfast in Switzerland is Rösti. This dish is mostly made out of potatoes and looks similar to a pizza. A traditional piece of clothing in Scotland is a kilt. Kilts are knee length skirts originally worn by boys and men. It usually was worn for formal events and sports games but has now become more informal. One of many people who have European heritage is Georgia Schlacter who gets her Irish heritage from both of her parents.
"I've only been to Italy but, I would love to visit Greece someday," she said.
"My family celebrates ST. Patrick's Day, we wear green and go to the parade almost every year in Old Town."
Thursday: Ancient World #WPAncientWorldThursday
On Thursday students embraced the older history of the ancient world. According to Oxford Dictionary the ancient world is "the region around the Mediterranean and the Near East before the fall of the Western Roman Empire in ad 476." The people of the ancient world's diet consisted of simple meat, fish, vegetables, and grains. Clothing differed from place to place due to different climates and temperatures in the ancient world. People living in Egypt would wear very little clothing whereas the people of Rome would wear longer clothing like tunics and togas.
Friday: The Americas #WPTheAmericasFriday
Friday collided with St Patrick's Day and #WPTheAmericasFriday. In South America, some spoken languages are Spanish and Portuguese. A popular thing to eat is quinoa. Quinoa is grown as a grain crop and is comparable to some cereals. In Columbia, women wear traditional, colorful skirts. Whereas in some native tribes in the Amazon, wear less clothing due to the warm weather. In North America, we get all types of different people coming from all over the world. Therefore, there are many different cultures that are shown. In the United States, a national holiday is on July the 4th to celebrate the signing of the Declaration of Independence. North America has some well known cities like New York, New York and Los Angeles, California.
This week was to acknowledge all the different cultures you may find at West Potomac.
Leave a Comment