Career Exploration Night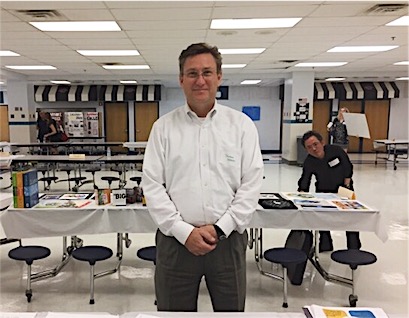 School is meant to prepare students for work, but how do they know which career to pursue? On April 26th, students had the opportunity to see where life might take them at Career Exploration night, intended to allow students to explore different careers and see which piqued their interest.
The event was organized by Liz Carter, the College & Career Specialist, and Cathie Grant-Goodman, Director of GYDA at West Potomac.
"Our goal was to provide the opportunity for students to have that connection with professionals, one-on-one, so they can explore the different career options and have the opportunity to talk with various professionals," said Carter. "I think we had a nice cross section of all types of careers."
The guests displaying their careers were volunteers from the West Potomac community, most of whom had children at the school. These workers chatted with students one-on-one about what their job is like and how the students can take the right path to success. One volunteer was president and CEO of National PACE Association Shawn Bloom.
"What you like, you're generally good at, and what you're good at, you generally like," he said. "So follow where your interests are, and don't let too many people tell you which way to go."
The National PACE Association helps provide home care for the senior citizens. Its main goal is to keep older individuals healthy and make sure that they keep living in their community so that they don't have to go to nursery homes. PACE employees provide hands-on, 24/7 care for the members.
"It's really rewarding because these older folks can live in their homes rather than living in a nursing home," Bloom said. "You're making a difference."
There was a wide array of careers presented at the event, including graphic designing, architecture, medicine, news reporting, chemical engineering and working for the FBI.
Danny Selnick spoke with students about his job as the senior vice president of Business Wire.
"I encourage students to speak with as many professionals and ask the questions, 'What's it like? What's your day like? What do you do? How did you get where you are?'" he said. "Learn as much as you can and ask for advice."
Business Wire is a public relations service for press releases, distributing its clients' news to newsrooms, websites and other audiences. It works with businesses, advocacy groups and non-profits.
"The difference between advertising and public relations is advertising is what's called paid media," Selnick explained. "You pay for advertisement on air, on the internet, and in the newspaper. Public relations does story-telling and works with journalists to get what's called 'earned media.'"
Senior Matt Frame attended Career Exploration night to explore his options before he attends William & Mary in the fall.
"I learned a lot tonight," he said. "I got the chance to see what kind of fields are in demand in the 21st century and I learned that hard work pays off in the end."
Bloom reminded students that although they should be thinking about possible careers, their current job is school.
"Right now, the only thing to focus on is grades–if you get good grades, that's the foundation upon which you can begin to think about where to go," he said. "Without good grades, it's really hard to have options."
Leave a Comment