West Potomac's 2nd Annual Carshow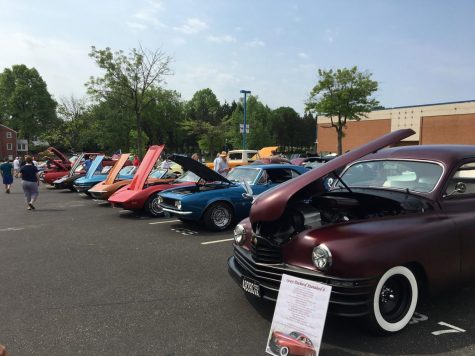 The school year is almost over and graduation is coming up but more importantly the all night graduation party is coming up and what better way to fund it then a Car Show. It was hosted in the senior lot of West Potomac on April 29 early in the morning, it was a beautiful day and a great turnout.
"This is the second year in a row that the senior class has done a car show up here at west potomac. Last year unfortunately it rained, despite the rain we still had 20 cars here we've surpassed that, we just had our 74th car come in," said Maggie McCloud and organizer of car show.
During the car show we walked around and talked to some of the owners about their cars and the reason why they came to the West Potomac Car Show.
"I did [know the proceeds funded All Night Grad]  and that was the main motivation to come here knowing that the money was going to some good and my fiance and I grew up around this area and wanted to give back to the community," said Kellen Mckechnie. He owns a 2006 Lotus Exige.
The parents, sponsors and car owners all participated in hopes to raise enough funds to make sure the senior class has a fun, safe night after graduation.
"A car show is a great community event it's a lot of fun for our car owners in the neighborhood and a great way to raise money for our senior class, all the proceeds that are raised go to the class of 2017 all night grad party," said Maggie McCloud, organizer of the car show. "To provide a safe, alcohol and drug free event for our seniors the night of graduation on Wednesday, June 21st."
Everyone  looked forward to  to helping the seniors, whether it be parents, sponsors or members of the community; and everyone came together at the car show to help and have a great time admiring cars and enjoying the beautiful weather
Leave a Comment