Harry Styles Album Review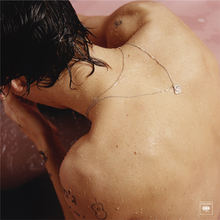 The new self titled album released by Harry Styles on Friday is one everyone has been waiting on. After one direction had split and gone their separate ways everyone has been waiting for all of them to release their own music. Although fans of One Direction may not exactly love Harry's album. Harry used to sing fast, upbeat songs with his former bandmates but now that he is solo he's gone with a different approach. The songs are a little slower and have more of a old british rock influence. We first got a taste of Harry's new album when he released Sign of the Times as a single, however, it is extremely different from what Harry used to sing.
Carolina, one of the more upbeat songs on the album, has a very folky-rock type of influence in it, it seems to be about a girl and she lives in Carolina. Meet Me in the Hallway is very slow and it's the kind of song you want to listen to on a rainy day. Sweet Creature is another song Harry released as a single and is about a person who really cares for whoever he seems to be talking about, when I first heard this track I loved it and then realized that it sounds kind of like one of One Direction's songs. Two Ghosts is a slower track and listening to this really shows how much One Direction has spread apart. Zayn has took the more electronic pop style, Niall has stayed pretty similar to what One Direction used to sing, and Liam and Louis haven't really done anything. Like Only Angel, Kiwi, has a rock vibe, and seems to be about a girl having a/his baby. Although Sign of the Times is my favorite out of them all, Ever Since New York is probably one of my favorites it sounds really good and just flows really well. I'm not a very big fan of Woman, it is extremely different and is very slow. From the Dining Table is yet again a slow song and is honestly kind of boring. Only Angel is about a girl that Harry is considering a angel and is always helping.
Harry took a slower approach on this album and I think that it was a good and bad choice. Harry can get more fans from this different type of music and some former Directioners might still be a fan, but there are lots of people who probably won't like the album because it is so different. Having many friends that were, or still are, Directioners I think that not all of them are going to be fans of Harry's new album considering it is extremely different. My favorite song in the whole album is definitely Sign of the Times and I would give this album like a 7.5/10. Overall the album is pretty good besides everyone expecting something very different from Harry, no one was really expecting the new style Harry has picked up.
Leave a Comment