Will Civil Rights Leader Gavin Grimm Be Allowed to Speak to West Potomac?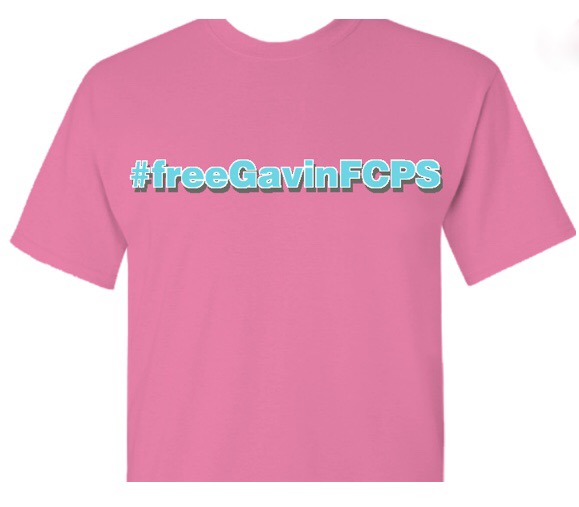 West Potomac has the rare opportunity to invite a civil rights leader to campus, but the visit of 19-year-old transgender activist Gavin Grimm is proving to be more complicated than the staff anticipated.
As a transgender student at Gloucester High School in Gloucester, VA, Gavin faced some intolerance despite his generally open-minded school and administration. After two months of using the boys' restroom without incident, the school received complaints from parents and residents of Gloucester County. Gavin filed a case against the Gloucester County School Board and the case made its way up to the Supreme Court, but before the justices could hear the case, the Trump administration rescinded the Department of Education's guidance and the case was sent back to the Fourth Circuit Court of Appeals. Gavin graduated in 2017 still unable to use the same restroom as the other boys did.
Rob Kerr, teacher of our Combating Intolerance course, invited Gavin to speak to West Potomac students about his civil rights case.
"Mr. Rigby and I decided that inviting Gavin was something that we've wanted to do for a while, and talking with my Combating Intolerance class, they were like 'that's a good idea, let's do that,'" Kerr said. "We've been talking about transgender rights quite a bit."
Kerr talked to Principal Tanganyika Millard about the visit, and she was fully supportive. She ran it by Assistant Superintendent Terry Dade, who also supported the visit, but wanted to make sure there was no pushback from the community, so it was decided that the assembly would be opt-in for the students and that parental permission was required. The West Potomac administration were eager for the visit; however, when an FCPS school board member found out, the project was halted.
"The brakes were put on it from someone higher in the county than our assistant superintendent, in which they said that Gavin could only come and talk to Combating Intolerance, not the rest of the student body," Kerr said. "It wouldn't be opened up because it was labeled as a controversial issue."
FCPS Superintendent Scott Brabrand cited an FCPS regulation in an email to Kerr, saying that any controversial speakers could only speak to the classes in which the curriculum aligned–in other words, Gavin could only speak to the Combating Intolerance class, bringing his audience down from a possible 2600 to 25.
"It's ironic because Gavin coming is not in and of itself a controversial issue," Kerr said. "Gavin's coming to talk about his civil rights case. He's a civil rights leader himself at 19 years old. He's not coming to indoctrinate us on being transgender; he's coming to talk about his court case, fighting for civil rights for transgender people."
Kerr cites school board politics as the root of the opposition.
"They're using it as a political barrier," he said. "They're scared for political reasons, political fallout, that others in this community disagree with transgender rights and disagree that transgender people are people."
Kerr feels that Gavin has a lot to offer to the students of West Potomac.
"We have a number of students who are transgender here at our school, and that small minority needs to have a voice, and right now because it is a political issue, they feel afraid, they feel scared," Kerr said. "They feel unequal to their peers, which is not the case."
Combating Intolerance student Kaitlyn Malone welcomes Gavin in her mission to help transgender students.
"I just want to understand the population who is transgender and feel like they're being discriminated against, so I can be more accepting and help them," said the senior.
West Potomac's transgender students might need the help, because while FCPS supports transgender students in name, there's nothing in writing.
"In FCPS, there's no policy for transgender students; there's just nothing," Malone said. "It's up to the schools. [Gavin] is still trying to bring that to surface so it's not just up in the air."
Malone doesn't understand why the bathroom issue is an issue at all.
"I don't think gender-neutral bathrooms should be a thing," she said. "I think you should just use whatever bathroom you feel you are, so the fact that we're having this whole discussion is dumb to me because just use whatever bathroom you want. He shouldn't even be having to go through this as a high schooler."
Even the school board wins this battle and Gavin can only speak to the Combating Intolerance students, Kerr will be grateful for the experience.
"One of the things that we talk about in class is not just complaining about X, Y or Z issue, but actually going out in the community and doing something about it," he said. "Gavin is a perfect example of that."
Malone is finding Kerr's class more active than she expected.
"I figured there would be some backlash to what we do because that's just the nature of the class," she said. "But the fact that we're up against Brabrand and the fact that it's been brought all the way up to him and getting the media into this…" she broke off.
But the senior isn't shying away from the challenge–just moments before the interview, she was texting her mother and asking her to obtain media coverage in any way she could.
"I've been thinking before 'I want to make a difference, I want to do this' but how?" Malone wondered. "I'm only one person, I'm in high school, like how am I gonna do that? But Mr. Kerr has told us that we have a platform. This is our platform. We're setting the example for other schools in the county, in the region, in the country, and it's awesome."
While both Kerr and Malone support transgender rights, that isn't the reason they want Gavin to come to the school.
"We don't want him here just because he's transgender–we could get another transgender activist in our local community," Malone said. "We're trying to bring him here because he was fighting a Supreme Court case and that's national."
Gavin's story can be expanded beyond its immediate scope of transgender rights.
"This is somebody who's fighting for something that makes him him, and to show any student, transgender or not, that you can work through the avenues that our country has set up in order to fight for your rights, is incredible to see," Kerr said.
Kerr respects the higher-ups in charge of FCPS decisions, but he is stout in his position on this issue.
"I understand that they don't want this to turn into something very political; however, I think they're the ones who are turning this into something political," he said. "[Gavin] is a civil rights leader, much like John Lewis, a civil rights leader who came and spoke with none of this controversy. This is currently going on, while African-Americans received many rights long ago, so that's not seen as controversial anymore. I obviously respect what Dr. Brabrand and our school board do on behalf of our students, but I think they're on the wrong side of this issue."
While they're facing opposition, the students of Combating Intolerance are not backing down. They have launched a social media campaign complete with customized T-shirts. Kerr has instructions for how anyone wishing to hear Gavin speak can fight for that.
"Writing letters and emails to the school board, writing letters and emails to the superintendent, asking him why they're not being given the same opportunity as the students in Combating Intolerance, why they can't see Gavin come and speak," he said.
Brabrand intends to meet face-to-face with Kerr on Wednesday, and the teacher has a game plan to persuade the superintendent to reconsider.
"What we are going to stress is that we can tie other curriculum to this, not just Combating Intolerance, and that this is not a controversial issue," he said. "Transgender people are not controversial, they are people."
EDIT 11/9: After Kerr's recent meeting with Dr. Brabrand, it has become evident that school board politics was not the root of the issue and it was merely an administrative miscommunication. Additionally, the Superintendent has given support to allow a more diverse and broader audience and has tasked Mr. Kerr, Mr. Dade and Ms. Millard with coming up with a solid plan to make sure that this opportunity is enriching for all participants.
Leave a Comment
About the Contributor
Claire Callahan, co-Editor-in-Chief
I joined journalism my junior year because I loved writing and wanted to learn its other forms. This year, I'm the co-Editor-in-Chief, and I'm excited...