Holiday Food and Feelings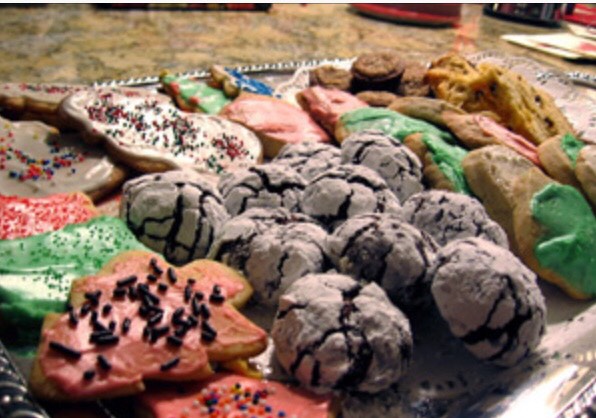 Whether you're religious or not, certain foods can still be enjoyed during the holiday season. Food's main purpose is nutritional sustenance, of course, but some students have a deeper connection with food. Because of any reason from dinner table memories to a connection with the cook, these foods spark emotions in West Potomac students.
Sophomore Lara Miller looks forward to her grandma's Christmas cookies every holiday season.
"Every year I see my grandma for Christmas and she always makes tons of different types of cookies," Miller said. "We usually have them throughout the holiday but we always have a lot even after Christmas."
Even though Miller loves the flavor of the cookies, the time spent with her family is even better.
"The cookies have become more than just dessert for us; it's a tradition," she said. "I don't see my grandma that much, so making cookies with her every year is special to me. Every year we make some of the same cookies but she always brings new recipes to bake."
The tradition of making cookies with her grandma has created some fond holiday memories she will always remember.
"Me and my brother would always argue on Christmas Eve about how many and what cookies to put out for Santa," she said. "My favorite were always the gingerbread cookies but he liked the peanut butter kiss cookies, so we would always have to decide what to leave out."
Sophomore Jack Mckone has a similar connection to food during his holiday season.
"During (winter) break we go see my grandpa a lot," McKone said. "Whenever we go he makes this really good honey glazed ham for Christmas dinner."
McKone believes that the food makes the holiday moments with his family all the better.
"I think the food brings us together because we are all excited to sit down and eat the ham and we end up having a lot of conversations and just have a good time," he said.
The ham doesn't just bring his family together together–it brings back memories he will never forget.
"When me and my siblings were younger we would always try to help our grandpa with the ham," Mckone said. "We thought we were really good chefs but he really did everything. We just liked spending time with him."
No matter the holiday you celebrate, food can bring family together in the happiest season. These foods are not confined to the students' dinner tables; they have also found a place in their hearts.
Leave a Comment