Insidious: A Somewhat Scary Snoozefest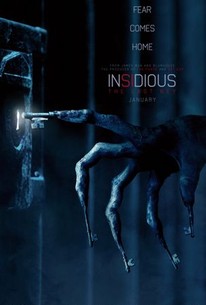 Insidious: The Last Key is the final chapter of the horror movie franchise. It's completely fictitious and focuses on one of the side characters from the other three movies, Elise Rainier (Lin Shaye). In the beginning of the film Elise is a young girl who is discovering she can talk to spirits both evil and god. Elise struggles with her father not wanting her to admit she has these "gifts".This part of the movie can be a bit hard to watch because of the abusive behavior of the father. It was very unexpected, but it wasn't a good twist; it was an alarming surprise that no viewer wanted to see. As she grows up she still has her abilities and her father continues to discourage them so she runs away from home, leaving her little brother with her father.
When Elise is an adult she helps people with their supernatural problems. One day a man calls her for help with spirits at her childhood house and she knows that she has to come back and help with them because she had an interaction with a bad spirit there when she was just a girl. This section is very cheesy in that she thinks it is her duty to go back and help some stranger. Why would she go back to the house that had caused her so much pain when she was younger? She's not that noble.
The viewers are in for a momentarily thrilling but essentially shallow experience while Elise tries to help the man at the house and all the others who are having troubles with the demon in her home. As she goes through she helps the man who called her with the demon and realizes he is being controlled to do bad things to other people in the house. This is the only real twist in the movie, which was disappointing because that's what makes horror movies interesting.
Overall the movie was confusing and the end was hard to follow. There was far too much supernatural nonsense that was getting out of hand and disorganized. The story had no pattern to it whatsoever and just made it seem as if the series was going on too long. It felt like a quick attempt to make a little more money off of the original storyline, but the producers had lost energy, so the final product was lacking.
Leave a Comment