Review: Bastille's "Bad Blood"
The debut album from this new U.K. band is a great blend of introspective lyrics and catchy beats.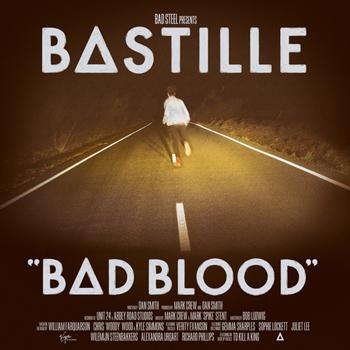 Bastille is an upcoming pop rock band from the United Kingdom, composed of lead singer Dan Smith, bassist Will Farquarson, keyboard player Kyle Simmons, and drummer Chris "Woody" Wood. The band's debut album Bad Blood includes popular chart toppers such as Pompeii and Bad Blood, their style of music similar to that of artists like Arcade Fire, Ed Sheeran, and Coldplay.
 Pompeii, the most popular song on the album, is an upbeat and tribal-like song. The song is described by Moxie as "one such epic in miniature,  a conversation between two charred bodies [after the eruption of Mt. Vesuvius in Italy] frozen in time. A moment of reflection and introspection…" It's a good song and not overplayed; all in all it deserves to be at the top of the UK charts.
Bad Blood tells a story of friendship in a falling out and how they have molded who each other has become and that they are still linked by their pasts. The song's lyrics are touching, and it's catchy and gets stuck in your head.
Things We Lost in Fire was inspired by a friend of Smith's house burning down; the song is about a relationship being "burnt down" and picking up the pieces through the ashes. It says that it's not only one person's fault as said in the song "I was the match and you were the rock maybe we started this fire…"
Overjoyed, originally from an EP made it onto the album, is a slow, very meaningful song. The lyrics are very heartfelt, clearly having a story behind them and the music makes it even more sentimental. It makes you want to hit replay over and over again, while singing along in your room, which can be good on those cold, rainy days.
Oblivion, a slow song, telling of an intimate moment between two people, one saying that however hard they try to follow the other, they can never manage to follow them to their level of oblivion.
Weight of Living Pt. II is an upbeat song having a sort of '80s ring to it. It explains the terrifying things about life and how you've lost control of it. If this is the way you want the rest of your life to be and if you are happy with the way it turned out.
Flaws, another single off the album is about talking about the flaws of everyone and how we lay them out in front of ourselves and pick ourselves apart but that without flaws we wouldn't be who we are now. This song, after listening to the entire album, is by far my favorite it has a very good message in it and it isn't a slow song that you listen to when you want to cry it makes you feel better about yourself and makes you want to go out a make a difference.
Get Home is a song about finding your way back home. It captures the feeling of directionless and uncertainty: in the end we are all lost when it comes to reality and we are all stuck in hedonism.
The album is like a book and Dan Smith is the storyteller, telling his story through the lyrics of his songs. Smith uses relatable events that make this album pure and heart-swelling. Smith also says that "some of the album is about stepping back and looking at what kind of person you've become…"
All in all it's a good album, and Bastille's extended version of the album called All This Bad Blood is coming out Nov. 25th.
Leave a Comment