Students Voices Need to be Heard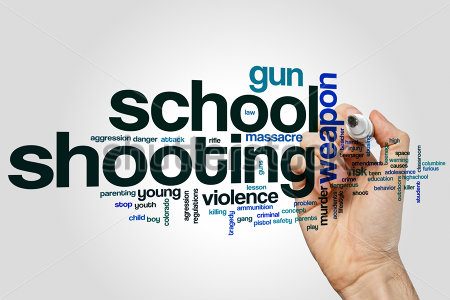 We are The West Potomac Wire. We write about things like bake sales and club fairs and soccer games. We should not have to cover a shooting in our own school in the same pages.
This is the reality of Marjory Stoneman Douglas High School. Before a gunman entered the building at the end of the day, it was just Valentine's Day at a public school–there were flowers for sale and cards being passed around. The newspaper might have been planning a feature on student couples or a poll on the best gift for your valentine. These are the things that should be on the minds of teenagers, not whether or not they'll be shot today in the place that should feel the safest.
Despite the horror of these events, the American public has become numb; we are desensitized. We hear about another mass shooting on the news and we nod our heads–this is what happens where we live. That is not acceptable. The students of Parkland have forbidden our minds to throw up a blockade against emotion and reality. They have broadcasted videos from inside the school and stories of survival. They have delivered sob-ridden speeches detailing the deaths of their friends. Ultimately, they have called for action.
The trouble is, action can take many forms. There are the more widely-agreed-upon laws that would raise the age for purchasing a firearm from 18 to 21, laws that would ban bump stocks (devices intended to make a semi-automatic weapon fully automatic), and laws to ban mentally ill individuals from owning guns. Then we get into what some of the Douglas teens are calling for: a complete ban on assault-style, semi-automatic weapons like the AR-15 that turned their lives upside down. But in the end, something has to change. We're past the breaking point. As the movement states, this should happen #NeverAgain. Marjory Stoneman Douglas must be the last school shooting in this American epidemic.
Finally, to those saying we can't trust these teens' words and emotions because of their age: what about your generations? The anti-Vietnam movement, second-wave feminism? Youth has always been the backbone of change; it's just that you can't get away from this generation's opinions. Social media is our ally in this war, letting our thoughts be known. We live in a world of communication and constant news. We're informed and angry and articulate and determined to create a better world for our children–one where we don't have to send them off to school with fear in our hearts. Many of us were born in the 21st century, after the Columbine massacre in 1999. A world without school shootings is unknown to us. We are the generation that is being murdered while in pursuit of knowledge.
So listen to teenagers. Read our stories, our ideas, our perspectives in student publications. Join us in their peaceful protests and our endless determination. This is everyone's fight.
Leave a Comment