New Principal Selected for West Potomac
Alex Case, assistant principal at WestPo, receives the nod from FCPS to assume full duties as new principal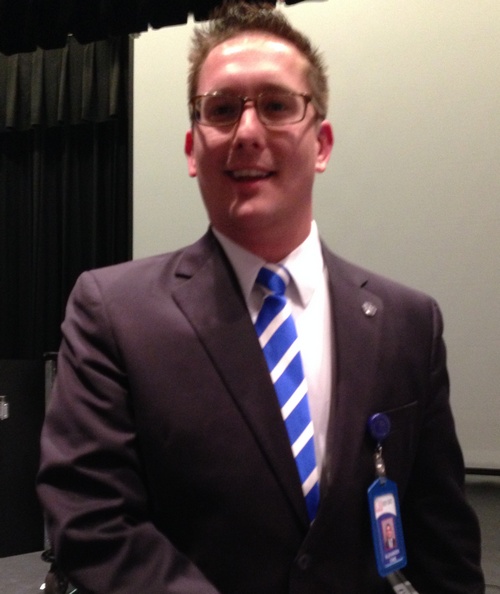 The search for West Potomac High School's new principal concluded today with the announcement that Alexander Case, currently an assistant principal at WestPo, had been selected to take over the top position. Effective Dec. 16th, Case will assume all administrative duties from Bruce Butler, the interim principal appointed after the death of Cliff Hardison, the principal at WPHS for the five years prior.
Deborah Tyler, FCPS Cluster IV Assistant Superintendent, made the announcement official in a brief faculty meeting held Wednesday afternoon. Upon the announcement, Case immediately received an enthusiastic standing ovation from the faculty, staff, and students who attended the meeting.
After the announcement, Case made a few brief remarks to express his gratitude, as well as outline the transition in the weeks to come. He told the audience that he knew he "was going to be a principal since his middle school career days," sharing a humorous anecdote from a card he received from his mother congratulating him upon the start of his administrative career at Sandburg Middle School several years ago.
Case made clear that he fully intended to carry forward with the current policies already in place, set upon the foundation that Hardison had established, and held solid by Butler upon his assumption of the transitional duties. "Don't expect things to change really fast," he said, "… [as] we're going to strengthen the programs we already have in place. … We've made commitments to our community, and we will fulfill the promises that we've made."
According to the announcement letter from Ass't Superintendent Tyler, Case has served the "West Potomac community for several years in roles that have included social studies teacher, student government sponsor, Advanced Placement (AP) program coordinator, assistant director of student activities, middle and high school administrator, summer school principal, and acting principal." He began his career with FCPS at Thomas Jefferson High School, and moved into administration at Sandburg shortly before his return to West Potomac to assume duties as an assistant principal.
An alumnus of the Fairfax County public school system, Case is a graduate of Robert E. Lee High School in Springfield. He studied political science, history, and secondary education at the University of Mary Washington as an undergraduate, holds a Master's Degree in Education Administration and Supervision from the University of Virginia, and is currently working towards his doctorate in education at George Mason University.
View Comments (1)