WPHS Student Selected for U.S. Army Bowl Game Marching Band
Senior Allie Woodbury chosen to represent WestPo on the The U.S. Army All-American Bowl Marching Band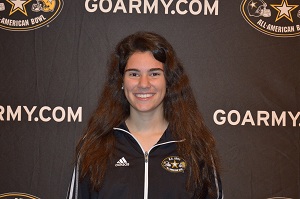 The U.S. Army All-American Bowl, hosted in San Antonio, Tex., is a national football competition where players from high schools across the nation are selected to be on the opposing teams. Along with the players, high school marching band performers are also selected for the bands that will perform at the Bowl. This year, senior Allie Woodbury was chosen by the U.S. Army to represent West Potomac, the first time in the school's history to have one of its students attend.
The selection process is put together by the National Association for Music Education. To audition, each band student must be nominated by their school's band director and submit an online form of their resumé with multiple videos that showcase the nominee's performing abilities.
Woodbury has been playing the trumpet for eight years. She says hard work and dedication has brought her to this moment in her life. When asked about her achievement, Woodbury said she was "inspired by anyone who has pushed themselves to get where they want. I've had so much doubt in my life and seeing others do well pushes me to do well. My private teachers, music teachers and family have all helped me and provided amazing support for all of this as well. I am beyond grateful."
Woodbury was honored to be given the opportunity, yet alone the chance to audition. After finding out that she was selected over musicians across the entire country, Woodbury was overwhelmed with joy.
"I was doubted by so many people and so when I found out that I had been selected out of other musicians across the entire country I was consumed with happiness," added Woodbury.
Of course, participating in an event such as this can be a nerve-wracking experience. "All 125 of [the band members] communicate on a Facebook group," noted Woodbury, "and my section has it's own group as well, so we've all started getting to know each other. As well as the people in charge know what to do for preparation so it helps very much with the nerves,".
Music has always had a significant role in Woodburys life, and she hopes to continue with it. "I want to be a Music Therapist and help others in their lives through music. If I can't do that then I'd want to go into music education."
Woodbury hopes to attend James Madison University for their music program. Music has and will always affect Woodbury, and her dedication and talent has definitely paid off.
The annual U.S. Army All American Bowl will be held at the Alamodome in San Antonio, Texas on Jan. 4, 2014.