The Library: The Do's and Don'ts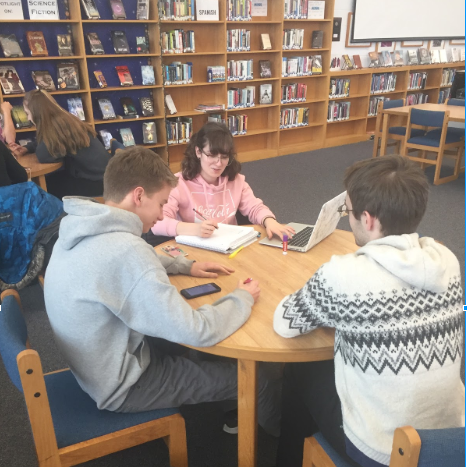 With soaring ceilings and wide windows, the library holds everything a student could need. Need to get books, print papers, use the computers, have a work space, or just about anything for school? The problem with going to the library is figuring out the best time to go, and knowing what is required to get there. Students can go to the library at an array of times, such as before school, S-period, and lunch, but it depends on the day. According to head librarian Jessica Landon, "Some days are busier than others."
"When you go to the library, you must have your student ID card," Landon says. "Students who do not have a school ID should get one."
If you want to go to the library, you must have a pass and your student ID. In the case of a lost ID, you can replace it by visiting the Student Services office and talking to Mrs. Snyder, the Student Information Assistant. "The first replaced Student ID card is free, but afterwards it costs $5 for each new card," Snyder said.
If a student wants to go to the library during lunch, they need to ask their teacher for a pass, or go to the teachers that are usually standing by the door opposite the outside doors, and ask for a pass to the library. There's a limited amount of passes so students need to be quick to ask for a pass in order to visit. "It should be easier to get a pass now as the limit of passes has been raised to 72 passes per lunch," according to Landon.
S-Periods and After School
Expect roughly 60-70 students in the library if you intend to go during a S-period.  Matthew Forsythe, a sophomore, who visits the library everyday after schools says he "talks to friends or does homework."  Forsythe suggests sitting farther away from distractions if it is an important assignment.
Cameron Hill, another sophomore at West Po, rarely visits the library. Hill accounts this to "having everything I need at home." Hill uses his personal computer and phone as alternative solutions.
Kelvin Reyes, a junior, is a regular at the library. Reyes goes to the library for "a quiet place to study."
Leave a Comment
About the Contributor
Carter Ver Hage, Writer
Carter Ver Hage is a sophomore at West Potomac High School and in his first year of Journalism. He joined Journalism because he enjoys writing articles...