Reviving Recycling Efforts at West Po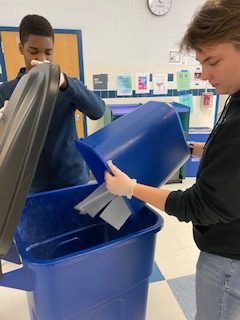 Recycling efforts at West Po have escalated since the new recycling program was launched last year. "The science is clear. The health and prosperity of humanity are directly tied to the state of our environment," said Joyce Msuya, Acting Executive Director of UNEP. If students can embrace this way of thinking, they can strive to produce much less waste. Climate change is affecting our earth in disastrous ways including rising sea levels, species loss, and heatwaves. Even on a small scale, our actions can affect these outcomes. 
Steps the school can take are setting up more recycling stations in the hallways. Last year a program formed in the effort to include West Po's disabled students, called "CAT B". CAT B is a program for students with severe cognitive or physical disabilities. It has its own special department here at West Po with Ms. Sarah Newton as the main teacher. Most CAT B students are given jobs in the community such as folding pizza boxes at Primo's or folding laundry at local hotels to gain life skills. Some student's disabilities, however, are too severe for them to work in the community. These students help out around the school shredding paper and collecting recycling from classes. 
The National Honor Society applied for a grant from "Get2Green" to receive funding for more recycling bins around school. "Get2Green" is a local organization, sponsored, but not run by Fairfax County. The NHS students received the grant and since then have included the CAT B program every step of the way. NHS students and CAT B rotate collecting the recycling from classrooms every day. "The custodians already do so much around here so we are not only supporting the environment, we're supporting the custodians too," offered Ms. Newton when asked why CAT B students collect recycling. 
Since the program launched last year, recycling bins have been distributed to all classrooms and recycling efforts at West Po have sky-rocketed, but we still have a long way to go. This new program is teaching CAT B students to recycle, as well as other students around the school. NHS is planning on launching videos in advisory classes and on social media to raise recycling efforts around the school. The CAT B students sort trash out of the recycling bins regularly, a side effect of having more than one bin in classes. Although this program is great and is still growing it won't work without the students' help, students need to become more aware of their actions and make an effort to take care of their environment.
Other ways to be more conscious of your waste are, reuse Ziploc plastic bags, not just throw it away after one use. Refill the plastic water bottles that you buy in the lunch line or vending machine using the water bottle filling stations located in the Springbank building, or at any water fountain around. Don't grab straws if you don't need them, more than 500 million drinking straws are thrown away daily, that's enough to fill 125 school buses. If the bus is not your first choice, carpooling with your neighbors is always a good idea. The school already recycles our lunch trays, however, including a salad bar in the cafeteria could minimize our waste from packaging, and allow students to be more healthy. All this said, bravo to the county for incorporating computers into our classrooms and drastically reducing the amount of paper that we use. 
Leave a Comment