Amy Coney Barrett Joins the Supreme Court, Brings Conservative Majority with Her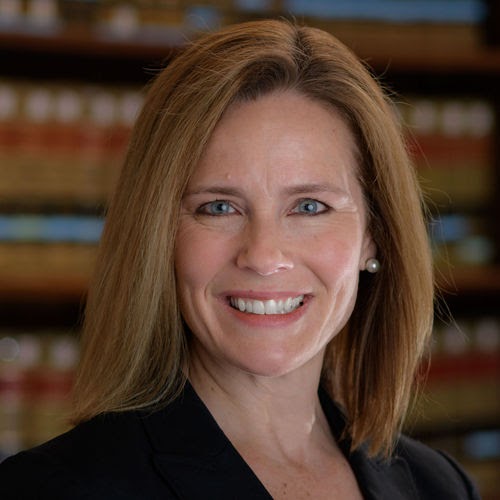 The Senate confirmed President Trump's 3rd Supreme Court appointment and Justice Ruth Bader Ginsburg's replacement, Amy Coney Barrett.
Justice Barrett was recently confirmed into the Supreme Court of the United States, which is now dominated by conservative justices six to three following Justice Ginsburg's passing. Barrett has a background in law, including being nominated for the Seventh Circuit Court by President Trump in 2017. Case hearings have garnered a level of popularity from the religious right, due to her opinions on tension filled social issues.
Barrett has laid out her opinions on progressive movements like LGBTQ equality and women's pregnancy rights, both of which she opposes according to her faith, as well as having worked with cases on civil rights for people of color. She was a part of the hearing with the case EEOC v. AutoZone, where the Equal Employment Opportunity Commission accused AutoZone of implementing racial barriers between their shops, grouping Black workers together in Black neighborhoods instead of the shop the worker intended to work at. In this case, Barrett sided with AutoZone.
In terms at looking at her role through the lens of a West Po student, her confirmation paves the way for more conservative rulings that could affect students, including LGBTQ+ students, students of color, lower-class students who rely on funded healthcare, and students who need birth control or a pregnancy termination for any reason. The conservative majority could overturn landmark rulings for civil rights including Roe v. Wade legalizing abortion, and National Federation of Independent Business v. Sebelius, which is in favor of the Affordable Care Act. While her views on LGBTQ+ people are clear, the Supreme Court recently shut down a revisit to rolling back marriage equality in Indiana.
Her religious views also translated in the recent case Roman Catholic Diocese of Brooklyn, New York v. Andrew M. Cuomo, where Barrett ruled that the pandemic restrictions placed on religious gatherings were unjust and a violation of religious freedoms. While what will happen to the case is in the air, the court majority is with Barrett.
Leave a Comment
About the Contributor
Finn McCool, Social Issues Editor
Finn McCool is a junior at West Po. She has always had a passion for writing and reporting, and how the way news is reported can affect how people take...