COVID Learning Environment Differs from Private to Public High Schools
Virtual learning for West Po students and hybrid learning for other private schools around the area, has been a struggle to get accustomed to. Although the schools in Fairfax County Public Schools (FCPS) are doing all virtual learning, there have been efforts to try to have students go back into school later this school year. The FCPS school board will be meeting on February 2nd to further discuss a return to school plan. Many private schools nearby have made the decision to have its students go into school for some days out of the week. The big question is how the learning environment is different at other schools vs. at West Po.
Currently, many students from Bishop Ireton (BI) and St. Stevens & St Agnes Upper School (SSSAS), have been on a schedule of going into school for 2-3 days out of the week. On the other days, students log on virtually for classes. Both students from BI and SSSAS agree that one of the advantages of going into school is the social interaction. 
"I get to see my friends and being in person helps me understand lessons more," said Antonia Goulet, a freshman at BI. 
Although some students are already going into school, everybody is still dealing with virtual learning and getting used to these new ways of learning. 
"My favorite part is that there are less distractions from classmates during class and I like getting to sleep in longer," said Chloe Godbout, a freshman at West Po.
Even though virtual learning may not be ideal for students, there are also some advantages to getting to stay at home all day. 
"There are pros and cons to both. I like going in person because I actually get to leave my house, but it is also nice to wear pajamas all day when I am at home," said Charlotte McNamara, a student from SSSAS.
Many teachers like to be as interactive as possible, providing the students with Kahoots and other activities that students can participate in. 
"One thing I enjoy is when my teachers give us interactive work," says Godbout. "It's a fun way to learn and it is a good way for us students to participate."
A common worry about having FCPS students go back into school is if it will take a toll on the students' learning habits. For some people, it may be a struggle adjusting to going into school some days and being virtual the other days.
"Personally, I would rather stay online for the rest of the year, because I already have a routine in place," said Jocelyn Ausmus, another student at West Po, when asked what she would do if she had the option to go back into school or stay virtual for the rest of the year.
Other students who have already had experience going back into school say that they would rather go into school for the rest of the year, even under the regulations and limitations they are currently undergoing.
"Going in person gives you more of an opportunity to interact with other people, and it helps your mood as well," said McNamara.
One thing that students had mutual thoughts on is what they miss about how school used to be. They all missed the social interactions and getting to see their friends daily.
Leave a Comment
About the Contributor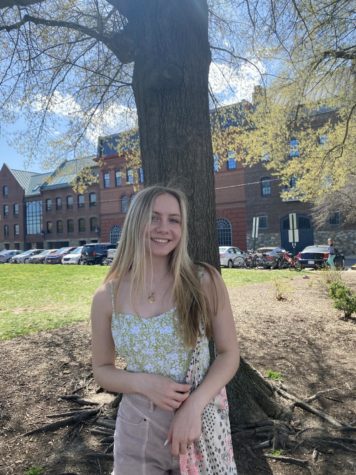 Phoebe Schultz, Editor-In-Chief
Phoebe Schultz, a junior on the dance team at West Po, loves reading and spending time with friends. She finds that music wakes her up better than her...