WP Girls Basketball Wins Regionals, Draws Madison for State Semifinals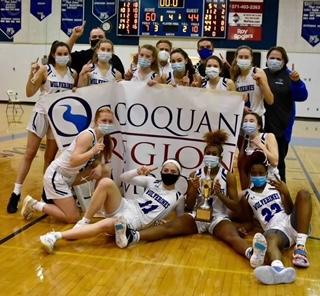 Following a 9-1 finish to the regular season, the Wolverines earned the top seed in the Occoquan Regional Tournament. After receiving a bye through the first round, the Wolverines drew the Lake Braddock Bruins for the quarterfinals. They made lightwork of their opponent, steamrolling the Bruins in a playoff victory by a final score of 74-38. Next up was the Robinson Rams in the semifinals, and it was another blowout. The Wolverines defended their home-court and eliminated the Rams, sending them home with a 62-24 loss. 
It was on to the regional finals, and the Wolverines were pinned against a familiar foe, the West Springfield Spartans. The two had met earlier in the season, with West Po cruising to a 44-33 win, but this time around the stakes were as high as could be, with a region championship on the line and a spot in the state tournament up for grabs. After a back-and-forth first half, West Po took a 7-0 run into halftime to go up by nine. The Spartans wouldn't go quietly though, they opened up the third quarter with a 9-0 run of their own to tie the score before West Po regrouped and regained control of the game, in the end the Wolverines took the win and region title by a final score of 60-44.
"It was a lot harder than the score looked," said West Po Head Coach Brian Colligan in an interview with novahoops.com.
The win will go down as a triumph for the history books, it is West Po's first region championship in school history, and first time advancing to states. To add on to the hardware, West Po also mopped the floor with regional honors. Senior Danea Mackey was named Player of the Year, Head Coach Brian Colligan was named Coach of the Year, and Senior Ambria Redfearn as well as Sophomore Mary Prater were named to the All-Region First Team alongside Mackey.
What's up next is the biggest stage the program has ever been on, Wednesday evening at 7:00 PM the Wolverines will play at and against the James Madison High School Warhawks for the right to advance to the state championship game. The Warhawks, at 14-1, come into the game on a five game winning streak. Their only loss on the season came at the hands of the Chantilly Chargers, the same team which handed West Po their only loss back in December. For those wondering, Chantilly was knocked out of their regional tournament by the South Lakes Seahawks, a team which James Madison later eliminated. 
The game will be live-streamed on Warhawk Nation Live, but if you can't catch the game, feel free to check up on the WP Wire on twitter, as we will be live tweeting the game play-by-play.
Leave a Comment