In Person Graduation is Set for Hayfield This Year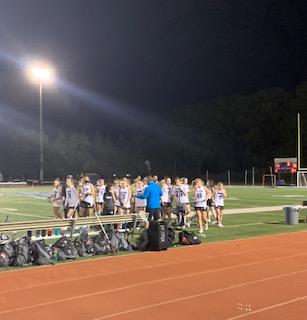 After months of discussion and confusion, senior graduation has finally been planned. On June 3rd, graduation will be held at Hayfield high school at 10:00 a.m. This comes after GMU, where graduation is usually held, has been turned into a vaccination site. There is a two guest limit for every senior to limit the number of total people attending the ceremony.
Previously, the plan was to have graduation on the West Po field, but it would have had to be split into 2 days due to parking and capacity limitations. Having graduation at West Po had many concerns. "I know a lot of seniors want an in person outdoor graduation, but the biggest problem with that is there is not enough parking to accomodate for that kind of event," explained senior representative Lauren Koelsch. Having it at West Po was also the most expensive option, costing around $20,000. Overall capacity limitations will need to adhere to FCPS covid restrictions while still trying to allow students and their families to attend the event. 
Leadership classes and SGA representatives have talked about all the choices and debated pros and cons to all. Senior representative Lauren Koelsch said, "It's a decision made by the people above us, so leadership has no real control over it, but we do have representative meetings with Ms. Britton about the possible options." 
Other options for the ceremony included Jiffy Lube Live stadium and inside the gym at West Po, but were not as popular. 
According to Hayfield Vice Principal Ms. Jessica Statz, the county organized five schools that will be "county sites," making them eligible to host graduation ceremonies with their parking and capacity availability. West Po, Hayfield, and Edison high schools all will have graduation at Hayfield on their own separate days. "This is designed to give the base like West Po schools more capacity and more comfort for senior graduation," Statz explained. 
However, some students criticized the move to Hayfield from West Po. "It's really sad that I'm not graduating at the school I've gone to for the past 4 years and the field I had all my lacrosse memories on. And with the two person limit my brother won't be able to come, and I wish he could be there for the ceremony," said Senior Hailey Sherrer. 
Senior Lux Ray looks on the bright side, saying, "It's alright that we're having graduation at Hayfield, I'm just glad we all get to be together for it."