Juniors Elizabeth Hardin and Aaron Kopp Take 12th Place in National Debate Tournament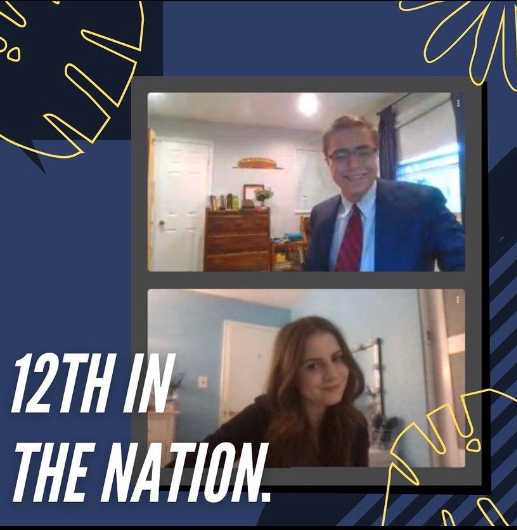 Over Memorial Day weekend, West Po juniors Elizabeth Hardin and Aaron Kopp placed 12th in the virtual NCFL Grand National Debate Tournament out of 257 teams. 
The tournament, originally planned for Minneapolis, proceeded online due to covid concerns with two parts. The first part, consisting of five rounds of debate, determined which teams competed in the second, bracket part of the tournament. In each round, two teams debated each other and then a panel of three judges voted on which team won the round. At the start of the round, the teams read their pre-written speeches, and then both had the opportunity for rebuttal with another speech. After that, a crossfire round took place where the teams could debate directly with each other, then the judges voted. The 64 teams with the most votes from the judges after the five rounds moved on to the bracket part of the tournament. Hardin and Kopp advanced to the bracket round, where they ended up finishing 12th overall.
In order to reach the tournament, Hardin and Kopp first had to get through two local tournaments. The Washington-Arlington League hosts monthly tournaments in which a top 6 finish in one of those allows a team to participate in Metro Finals, a tournament for the greater DC area. Once they got there, Hardin and Kopp needed to finish in the top 6 to advance to nationals, which they managed to do. 
Hardin and Kopp worked diligently to prepare for the tournament. They received their topic a month and a half before the national tournament and then completed research in order to write their speeches. Since they would not know which side they were arguing for until the day of the tournament, they wrote one speech for each side of the argument. Additionally, Hardin and Kopp had to think about what arguments the other teams might present in order to effectively counter them. 
Hardin is happy with the team's performance, though she noted the limitations of a virtual environment, explaining, "If this tournament was in-person, it would have been in Minneapolis, and I've never been there before, so it would have been super cool to get to go there." She feels she missed out on some opportunities she could have had in Minneapolis because of the virtual setting of the tournament.
Kopp is proud of his and Hardin's performance in the tournament, saying, "I'm … very happy because I did much better than I expected, and I brought home a great win for West Potomac." He also mentioned that it feels a little strange not to be focusing on the tournament anymore.
As for the future, both Hardin and Kopp plan to continue Debate through their senior years. Hardin is even participating in a summer program at Harvard where she will learn to improve her debate strategy and take part in a mini tournament. After high school, debate becomes less certain for both Hardin and Kopp. They both said that continuing debate in college will depend on what school they go to and what debate looks like there, with Kopp noting that not many colleges offer the style of debate they have been doing in high school.
Finally, Hardin and Kopp extend a tremendous thanks to their debate coach, Ms. Kelsey McGlynn, who has greatly helped them reach this accomplishment.
Leave a Comment
About the Contributor
Ethan Brodie, Co-Editor-in-Chief
Co-Editor-in-Chief Ethan Brodie is a senior at West Po in his third year of journalism. He enjoys traveling and learning about new cultures, writing, and...