West Po Theatre Opens First Show of the Year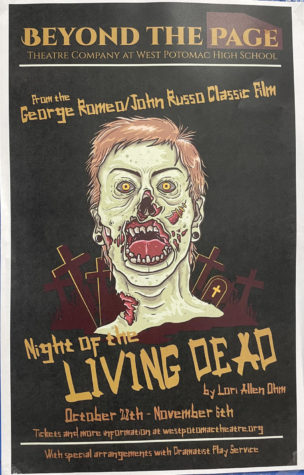 The West Potomac theatre program has planned to showcase their fall show "Night of the Living Dead". It is based on a George Romeo/John Russo film, adapted for stage by Lori Allen Ohm. 
Previously performed by past West Potomac students in 2017 and 2013. "Night of the Living Dead" includes interactive zombies and "5d" experiences. Sydney Dockter, a junior at West Potomac who plays the role of 'Judy', describes the show as a "light horror".
The fall showcase will be held in the Kolgelman theatre, in the Springbank building. The days of the shows will be October 28th, October 30th, November 5th , and November 6th. The show will be put on eight times throughout the course of these four days. October 30th and November 6th have will have three shows each. The times of the shows on those tripleheader days are 1pm, 4pm, and 7pm.  October 28th and November 5th are single show days with a 7 pm start time. The tickets are listed at $10, information on purchasing tickets is on the West Potomac theatre website.
Leave a Comment