FCPS Announces the Launch of Their Historical Marker Project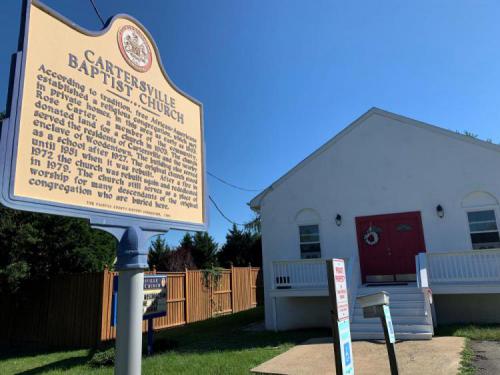 On February 1st, Fairfax County Public Schools and the Fairfax County Board of Supervisors announced the launch of their Historical Marker Project, a part of Fairfax County's broader Black/African American Experience Project. 
According to School Board member Karen Corbett Sanders, the Historical Marker Project is built on the work that was started with former Governor Northam's Historical Marker Project in 2020. 
The Historical Marker Project's purpose is to increase the importance of recognizing the history, culture, and accomplishments of underrepresented communities by placing historical markers in Fairfax County. Historical markers are signs built to remember a significant event or person in a location of historical significance. They describe the most important parts of that person's or location's history, such as ones located outside the Mt. Vernon estate.
There have been tremendous efforts made by members of Fairfax County, such as a staff member named Maura Keaney. "Fairfax County School Based Technologist Maura Keaney was very instrumental in getting 8 of the 15 markers in the state including the Ona Judge marker in front of Mount Vernon," Corbett Sanders said.
Keaney is an active advocate for the Historical Marker project, saying, "Virginia historical markers have been my passion project for years, and I am so proud of the 8 new Black history markers that FCPS students are responsible for adding to our state's historical marker program."
Since the announcement of Governor Northam's Black History Contest during Black History Month in 2020, Keaney has urged her 4th grade students to engage in the Historical Marker Project. She created her own "History Hunters historical marker scavenger hunt" that she says, "sparked the deeper examination of whose stories are represented on historical markers and whose stories have been too long erased, which led to students seeking out untold stories that were not told on Virginia historical markers."
After Governor Northam's success in the building of numerous historical markers in previous years, the project and its values continue in 2022. By March 31st, teachers and students in Fairfax County are able to submit suggested topics for new historical markers in the county using a submission form. 
With the deep history located all around Virginia, there are many places to interact with the Historical Marker Project. "I often say that Virginia's history is our nation's history and Mount Vernon's history is Virginia's history," Corbett Sanders said. "I believe that every school should have a history hunters program like the one that Ms. Keaney led to engage students," she added.
More information on the Historical Marker Project and the submission form can be found on the Fairfax County website. 
Leave a Comment