The Pursuit of Slappiness: Will Smith Slaps Chris Rock Live on Television
Last night marked the 94th Academy Awards Ceremony, which was held in the Dolby Theater in Los Angeles. While the event was branded as a celebration of film, the theme of the night being "Movie Lovers Unite", the show was derailed towards the end. During the last hour of the show, comedian Chris Rock gave a comedic monologue during his presentation  of the award for Best Documentary. During his speech, he made a remark about Will smith's wife Jada, which involved a joke about her hair loss by referencing a 1997 film called G.I. Jane where a woman shaves her head to join the Navy. Jada Smith's hair loss is caused by alopecia areata, a medical condition which causes bald patches. While Will Smith originally seemed to take the joke well, letting out his classic laugh, he later walked up to Rock on stage, interrupting his monologue, Smith proceeded to slap Rock in the face, before walking offstage and shouting twice in succession: "Keep my wife's name out your [expletive] mouth."
Rock, in response, baffled, said "It was a G.I. Jane joke" while he collected himself and then said "That was the greatest night in the history of television." This portion post-slap of the telecast was only viewable and audible in certain countries where the sound and video wasn't censored or dropped out together. Many wondered if the slap was initially a bit or a gag, but it became apparent that it was not when the unedited, uncensored footage started circulating on social media. One slap set the whole internet on fire.
This disruption comes as the annual viewership to the Oscars has been steeply declining. Just last year, the viewership declined 56%, making the 2021 show the least viewed Academy Awards ever at the time. Not to mention, the lack of major movie releases in the past 2 years because of the Covid-19 pandemic and theater closures have shifted how the Oscars operate. This year was intended to be a return to normalcy for the show in so many ways – no masks, the first time the show has had a host in 4 years, back at the Dolby theater where so many of the ceremonies have been held, but the slap has all but taken over all discourse surrounding any part of the show. Less than an hour later, Smith went on to win the Oscar for his performance in King Richard in which he apologized to his fellow nominees and the Academy for his outburst, but notably not Chris Rock. What was supposed to be a joyous celebration of one of our most well-liked, charismatic actors became a moment of embarrassment and vulnerability for the star. 
At an afterparty following the Oscars ceremony, Oscar in hand, Will Smith was seen dancing to his own song "Gettin' Jiggy Wit It". At this time, Rock has said he will not be pressing charges in regards to the incident and little is known about how these issues will be resolved. Sean Combs said it best as he introduced the 50th anniversary tribute to The Godfather that followed the slap, "Will and Chris, we're going to solve this – but right now we're moving on with love."
Leave a Comment
About the Contributors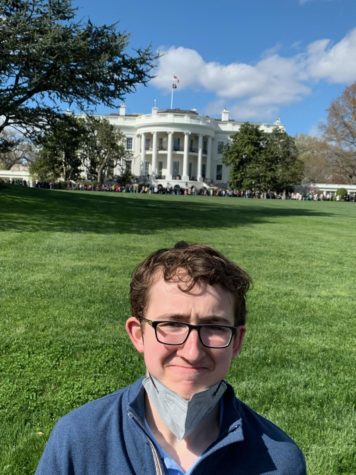 Benjamin Price, Assistant Editor-in-Chief
Benjamin Price, a senior, likes going to the movies, getting slurpees and listening to music. He is the parliamentarian of Asian-Pacific American Club...