New Ideas Brewing in the Pulley Center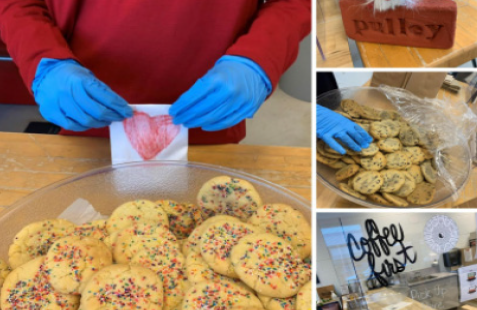 Brew-Tea-ful, West Potomac's one and only coffee shop is open every day from 9-10 AM in the Pulley Center for those in need of a midday pick-me-up or a sweet treat. Started in 2019 by Mr. Winterstein, culinary arts teacher, Brew-Tea-ful serves a variety of beverages such as coffee drinks and numerous tea options. The cafe was brought back to West Po this year by Ms. Byun, Brew-Tea-ful cafe instructor, and Mr. Winterstein.
"We started back in October, we kind of did a soft opening just to get a feel for how many customers we would have because of COVID," Byun said.
The Brew-Tea-ful staff has numerous roles in the business from working hands-on in the cafe, to prepping and cleaning equipment. The students rotate roles, so each member can experience each job. In the classroom, there is a whiteboard with the day's schedule and the students' roles for that day. According to the chart, students work as cashiers, coffee and tea baristas, cocoa baristas, sugar cookie servers, and chocolate chip servers. Kitchen Lab roles consist of packing cookies, restocking and refilling hot cocoa, and putting away dishes.
Brew-Tea-ful includes two culinary teams. One team, supervised by Mr. Winterstein, works in the kitchen to help with cookie prep. The other team works on-site serving products and working the cash register at the cafe. They serve about 200 cookies per day, so the team works to prep and clean up at times when Brew-Tea-ful is closed.
Brew-Tea-ful staff reports that the shop has been thriving with customers since its re-opening. The profits all circle back to the cafe for more supplies to keep up with the high demands. Along with working to bring new items to the menu, they are constantly adding helpful advancements to improve the functionality of the business.
"Since February, we've had lines out the door… so we started online orders to kind of help with that," said Byun.
With spring around the corner, Brew-Tea-ful is hoping to bring more cold beverages, such as cold brew, to the menu. Iced coffee was recently added to the menu as well, selling for $1.50. The staff agrees that West Potomac students and teachers have helped give new ideas for menu items.
"We've actually asked the students as they've come through for thoughts and ideas," said Ms. Markson, teacher assistant at Brew-Tea-ful. "Somebody said to bring back the lemonade which was sold in 2019."
Leave a Comment
About the Contributor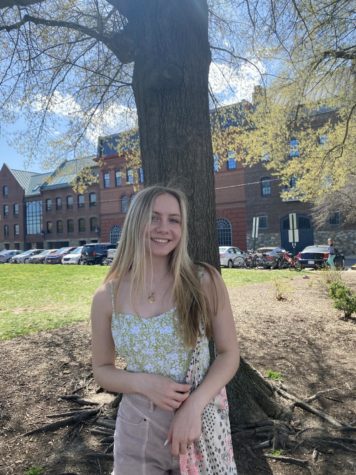 Phoebe Schultz, Editor-In-Chief
Phoebe Schultz, a junior on the dance team at West Po, loves reading and spending time with friends. She finds that music wakes her up better than her...